Retired Four-Star Marine General and Resident Adult in the Room John Kelly has reportedly called Donald Trump an "idiot" on multiple occasions and took credit for pulling the president back from the certain calamity of signing a bipartisan deal to save DACA, NBC reported on Monday.
Citing two anonymous sources who were at a meeting with Kelly and other White House officials where they discussed immigration issues, the network reported Kelly told those in attendance that Trump "doesn't even understand what DACA is. He's an idiot. We've got to save him from himself."
Three White House spokespeople pushed back on NBC's reporting, saying lamely that "they don't believe it's accurate that Kelly called the president an 'idiot,' adding that none of them has ever heard him do that or otherwise use that word." In a statement to reporters after the story was published, Kelly called the reporting "total BS" and a "pathetic attempt to smear" those closest to Trump. Kelly also said his relationship with the president is "incredibly candid and strong."
And all of this is far from the wildest thing that NBC reported about the White House chief of staff.

G/O Media may get a commission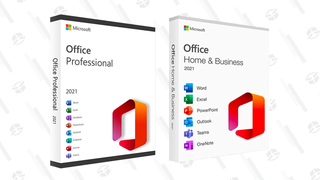 89% off
Microsoft Office Professional 2021 Lifetime License
Apparently, Kelly (perhaps bolstered by the mainstream press) sees himself as a hero, with multiple officials describing a common refrain of his "as some version of 'I'm the one saving the country.'" One senior White House official also told the network: "He says stuff you can't believe. He'll say it and you think, 'That is not what you should be saying.'"
Kelly is also—big surprise—a huge misogynist. According to NBC, "Kelly has told aides multiple times that women are more emotional than men, including at least once in front of the president, four current and former officials said." When domestic abuse allegations surfaced against White House staff secretary Rob Porter—which Kelly asked his aides to lie about—this is how the venerable general reacted (emphasis added):
And during a firestorm in February over accusations of domestic abuse against then-White House staff secretary Rob Porter, Kelly wondered aloud how much more Porter would have to endure before his honor could be restored, according to three officials who were present for the comments. He also questioned why Porter's ex-wives wouldn't just move on based on the information he said he had about his marriages, the officials said.
Just get over it, ladies!
White House spokespeople pushed back on this reporting with an even dumber excuse (which, of course, they would only share anonymously):
If anything, they said during meetings Kelly is the "bigger gentleman" who steps in when aides use foul language to note "a lady is present" and similarly says he shouldn't use foul language in front of a lady if he's used an expletive. The spokespeople, who would not speak for the record, said it's possible Kelly may have said women are more emotional than men, with one of them agreeing that "generally speaking, women are more emotional than men."

What we have discovered here is that the White House spokespeople are as sexist as my Big Adult Gentleman John Kelly.
The notion that Kelly is any kind of "moderating force" in the White House, particularly on the issue of immigration, should also be thoroughly rejected. NBC reported that Kelly often worried Trump would agree to an immigration deal that was not "hardline enough" by his own standards, and praised himself for preventing the president from signing onto a DACA fix:
After the talks on a bipartisan deal fell apart, a collapse Kelly helped orchestrate with some conservative Republicans, he told aides in his office: "If it weren't for me the president was going to agree to some hasty deal," according to two officials who were present at the time.

The White House's spokespeople conceded Kelly "did express concern in meetings that Trump would agree to a deal that was too soft on immigration, and after bipartisan talks collapsed told staff that if it weren't for him the president would have cut a bad deal."
This outpouring of gossip around Kelly—who has been on thin ice for a while—only further fuels the idea that he's not long for this world. But one thing is clear: When it comes to the White House, there has never been an adult in the room.