All 18-year-old Anthony Bauswell of Greenbrier, Arkansas, wanted to do was to display his "Southern Pride" with an innocent Confederate flag tattoo on his ribs; unfortunately for Bauswell, his ink disqualified him for enrolling in the Marines, according to a report from NBC Arkansas.
The tattoo, which superimposes the phrase "SOUTHERN PRIDE" over a run-of-the-mill Confederate flag, is "definitely" not meant to be racist, Bauswell says.
"I definitely don't want it to be seen as racism, which is 99% of the reason I got southern pride on it," Bauswell told NBC. (One wonders what comprises the other 1%.)
Which particular aspect of the tattoo resulted in the disqualification is unclear. NBC Arkansas reports that "Bauswell said the recruiter his tattoo disqualified him from joining the marines." But the Marines' tattoo policy allows some flexibility in interpreting which tattoos result in disqualification:

TATTOOS/BRANDS THAT ARE SEXIST (EXPRESS NUDITY), RACIST, ECCENTRIC OR OFFENSIVE IN NATURE, EXPRESS AN ASSOCIATION WITH CONDUCT OR SUBSTANCES PROHIBITED BY THE MARINE CORPS DRUG POLICY AND THE UNIFORM CODE OF MILITARY JUSTICE (UCMJ), TO INCLUDE TATTOOS ASSOCIATED WITH ILLEGAL DRUGS, DRUG USAGE, OR PARAPHERNALIA, ARE PROHIBITED. (3) TATTOOS/BRANDS THAT DEPICT VULGAR OR ANTI-AMERICAN CONTENT, BRING POSSIBLE DISCREDIT TO THE MARINE CORPS, OR ASSOCIATE THE APPLICANT/MARINE WITH ANY EXTREMIST GROUP OR ORGANIZATION ARE PROHIBITED.
G/O Media may get a commission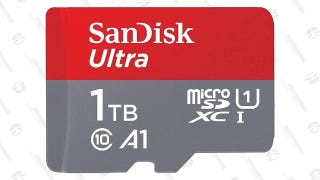 Save $70
SanDisk Ultra 1TB MicroSDXC Card
Either way, Bauswell is bummed about the arrangement, telling NBC that the disqualification left him feeling "pretty low."
Michael Rosen is a reporter for Fusion based out of Oakland.