From the looks of one video circulating around the social media-sphere, at least one parent took heed of Baltimore police's warning yesterday that protests could turn violent.
The video, seen from at least two different angles, shows what appears to be a mother, repeatedly slapping a teenager and telling him to go home. A local ABC affiliate reports that she saw him throwing rocks at police when she let loose on him.
And she is  serious about it.
It's also seen from another angle, where you can hear the mother yelling. "You gonna be out here doing this? Goddamn it," she screams, while forcing him off of the street and onto the grass. He tries to run from her, at which point she tells him to "Get the fuck over here" like only a mother can.
A tally of the total damage has not yet been taken, but several buildings, including a senior housing and community center that was under construction, were completely destroyed. That building alone was reportedly a $16 million project.
G/O Media may get a commission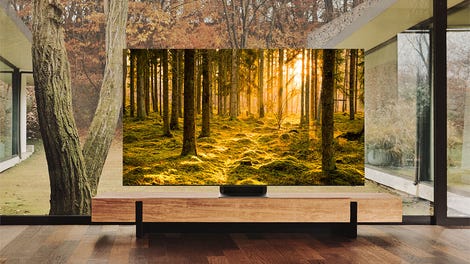 Up to 40% off
Samsung Smart TVs
"I wanted to talk to the people who are desperate for better in Baltimore," Baltimore Mayor Stephanie Rawlings-Blake said outside a CVS store that was looted and destroyed, on Tuesday morning. "What happened last night made sure more people have needs and more people are struggling."
Daniel Rivero is a producer/reporter for Fusion who focuses on police and justice issues. He also skateboards, does a bunch of arts related things on his off time, and likes Cuban coffee.