In a Silicon Valley with ever-increasing sway on the national political stage, Shervin Pishevar has become a major power broker. Just a few months ago, the Uber investor hosted Hillary Clinton, along with the Clooneys, at a $176,700-a-plate dinner at his San Francisco home. He rubs shoulders with Lady Gaga and Justin Bieber. He hangs out in boardrooms with Vladimir Putin.
https://www.instagram.com/p/BGu54pbg12k/?taken-by=shervin
But according to explosive allegations laid out in a lawsuit filed against Pishevar and his company Hyperloop One, Pishevar abused that power. Pishevar along with other executives, the suit alleges, frequently used their positions of power in the company to enrich themselves, their families, their friends, and an ex-fiance, bringing on "cronies and friends" to do "useless work" for the company.

Hyperloop One is a start-up attempting to turn Elon Musk's vision of ultra high-speed transportation between San Francisco and Los Angeles into a reality. But the company, says a suit filed Tuesday by recently ousted co-founder Brogan BamBrogan and three other current and former employees, is "being strangled by the mismanagement and greed of the venture capitalists who control the company."
The allegations paint a picture of an engineering venture run by power-hungry tech-era robber barons who used the sparkling promise of high-speed transit "to augment their personal brands, enhance their romantic lives, and line their pockets," with Pishevar the most outrageous of them all. The suit also names CEO Rob Lloyd, former chief legal officer Afshin Pishevar (and Shervin's brother) and investor Joe Lonsdale as plaintiffs.
G/O Media may get a commission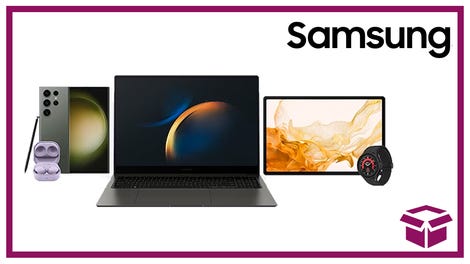 24 hour deals
Discover Samsung - Daily Deal
Pishevar, the suit alleges, "granted himself 90 percent of Hyperloop One's common stock" while giving co-founder BamBrogan just 6 percent. Then Pishevar "instituted a 'pay-to-play' scenario by pressuring potential Hyperloop One investors to invest in Shervin [Pishevar]'s own fund, Sherpa Capital, in order to gain access to direct investment in Hyperloop One. He also commanded that personal buddies be allowed to invest while strategic and other reputable investors were pushed off."
When Pishevar allegedly began dating the company's outside PR consultant, he increased her salary "from $15,000 to $40,000 a month, more than any employee in the company." Pishevar, the suit says, later fired her after their engagement fell through.
The suit also alleges that Pishevar would force engineers to stop work on the project so he could clear the office to host parties. He once "even forced BamBrogan to give a tour of the company to a Los Angeles nightclub doorman."
And it charges that Shervin Pishevar installed his brother, Afshin Pishevar, a personal injury and criminal defense attorney with little relevant experience, as Hyperloop One's General Counsel, "granting him salary and stock options far greater than even the most talented engineers received."
Shervin Pishevar's brother appears to have employed unusual legal tactics. After BamBrogan alerted Russian investors about problems at the company, the suit alleges that Afshin Pishevar left a noose on BamBrogan's chair. The claim is backed up by a still from the company's security footage:
Pishevar has yet to respond to requests for comment.
Hyperloop One's attorney, Orin Snyder of Gibson Dunn, gave a statement to Fusion saying that the lawsuit is "unfortunate and delusional," that the claims are "pure nonsense" and that it was filed by employees who "tried to stage a coup and failed." (Sounds like Game of Thrones over there.) Here it is in full:
Today's lawsuit brought by former employees of Hyperloop One is unfortunate and delusional. These employees tried to stage a coup and failed. They knew that the company was aware of their actions, and this lawsuit is their preemptive strike. The claims are pure nonsense and will be met with a swift and potent legal response.

Frivolous lawsuits like this one have become all too common against start-ups that achieve breakthrough success. It is almost a cliche. It is also a measure of Hyperloop's success. The company continues to recruit top talent, secure significant funding from global investors and accelerate toward its technology milestones. Hyperloop is on track, its board and team are united and today's bogus lawsuit will have no impact on its goal of becoming the first company to bring the Hyperloop to the world.
Meanwhile, other executives also installed family members as employees and consultants, according to the suit, putting the enrichment of family members before what was best for the company and turning Hyperloop One into an "autocratic governance culture rife with nepotism."
According to the suit, on May 11 top employees sent a letter to detailing their concerns to the defendants, Pishevar, Lloyd and Lonsdale, and offered their suggestions for change. It was after sharing the details of the letter with Russian investors that Pishevar's brother left a noose on BamBrogan's chair. The suit alleges that all 11 employees were subsequently threatened with "economic and legal warfare by millionaires with extensive networks."
The suit says that CEO Rob Lloyd told the 11 disgruntled employees that "if anyone talked to investors about what was happening in the company, HyperloopOne would 'come after' them; if they did not toe the line, this would be the 'worst day' of their lives; and they would bleed the employees dry with frivolous lawsuits."
Assistant general council David Pendergast and VP of finance William Mulholland were fired. Pendergast was fired in front of his wife and children "whom he had brought to the office out of fear for their safety after Afshin left the noose atBamBrogan's desk." BamBrogan says he was forced to resign, as was the company's VP of business development.
The suit, if the allegations are true, presents a damning vision of a man—and a company—that have come to embody Silicon Valley's biggest ambitions. Let it be yet another cautionary tale of what happens when power goes unchecked.