Welcome to WHAT NOW, a morning round-up of the news/fresh horrors that await you today.

Jesus Campos, a security guard at the Mandalay Bay Resort and Casino, very likely saved lives when he confronted Las Vegas gunman Stephen Paddock, even though he was unarmed. Now, no one's heard from him in days, according to a Los Angeles Times report.
Campos has been hailed as a hero for his efforts, although police twice changed the timeline of events for when exactly he confronted Paddock. They first said he approached Paddock's 32nd floor room and was shot in the leg after Paddock opened fire on the music festival, killing 58 and wounding over 500 others. Las Vegas police later said Campos was wounded before the concert began, raising questions as to why it took officers so long to find Paddock as he mowed down unsuspecting concertgoers.
And now, David Hickey, the president of the Security, Police, and Fire Professionals of America union, told the L.A. Times he hasn't seen Campos for four days.
"We have had no contact with him…. Clearly, somebody knows where he is," he said.
G/O Media may get a commission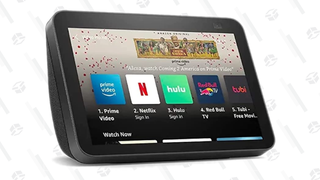 Hickey told the newspaper that he was with Campos last Thursday, coordinating a slate of media appearances on CNN, CBS, ABC, and NBC, along with an interview with Sean Hannity on Fox News.
Campos was staying in a suite at the Mandalay Bay resort, Hickey said. The union president said he was attending a meeting with hotel executives in one room of the suite as Campos waited with another union member and a security guard hired by the hotel in the suite's living room area. When Hickey emerged, Campos was gone.
The other union member said Campos had gone to urgent care but Hickey said he didn't hear from Campos again that night and later told reporters that the security guard had canceled his interviews.
Friends and neighbors described Campos as a private person to the paper. But one neighbor wondered why he seems to have disappeared.
"He's a hero, and nobody knows where he is," Jaime Ruano, a neighbor, said.
WHAT ELSE?
Reese Witherspoon is the latest A-list star to join the somber chorus of women saying #MeToo when she said in a Monday awards ceremony speech that she still feels "true disgust at the director who assaulted me when I was 16-years-old and anger at the agents and the producers who made me feel that silence was a condition of my employment." Witherspoon went on to say it was one of "multiple experiences of harassment and sexual assault" she's endured during her career.

The NFL endorsed a bipartisan criminal justice reform bill amid ongoing protests against police brutality by players during the playing of the National Anthem.
The driver of a tractor-trailer found packed with dozens undocumented immigrants, 10 of whom died, plead guilty to federal charges on Monday. He faces life in prison, according to CNN.
WHAT FRESH HELL?
This lineup of events for President Trump's evening, via Politico's Playbook, ought to be good:
Trump will participate in a Diwali ceremonial lighting of the Diya. This evening he is scheduled to speak at the Heritage Foundation's president's club meeting at the Marriott Marquis in D.C.
For more news and opinions that get under your skin, follow Splinter on Facebook.