On Wednesday afternoon, Milwaukee Sheriff David Clarke announced that he had accepted a role in the Department of Homeland Security, confirming longstanding rumors that he would join the Trump administration.

Speaking with Vicki McKenna, a conservative Wisconsin broadcaster, Clarke said that he would be serving as an assistant secretary in the DHS Office of Partnership and Programs, where he would act as a bridge to local law enforcement.
There was widespread horror at the announcement from many quarters, and rightly so, because Sheriff Clarke is undoubtedly one of the most dangerous law enforcement officers in the country.
His tenure as Milwaukee sheriff has been beset by allegations of misconduct and abuse—particularly in regards to the Milwaukee County Jail, which Clarke's office oversees. There, multiple inmates have died while in custody, including a newborn baby and a mentally ill man who allegedly died after guards cut off his water supply while he was in solitary confinement.
In February, thousands of Milwaukee residents marched in protest of Clarke's tenure as sheriff and his willingness to work closely with the Immigration and Customs Enforcement Agency.
G/O Media may get a commission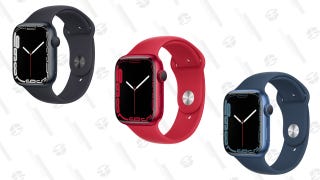 Up To $45 Off
Apple Watch Series 7
Beyond his own record, Clarke has been a vocal supporter of President Trump's "law and order" rhetoric, calling Black Lives Matter "Black Lies Matter" in a Fox News essay, comparing it to ISIS, and leading at the 2016 Republican National Convention in a raucous chorus of "Blue Lives Matter." He has also implicitly threatened violence, in the form of armed riots, against "corrupt institutions" like the media and Congress.
And now, all of America gets to pay his salary.
Update, 4:50 PM: A representative from the Department of Homeland Security released a statement suggesting that Clarke had been premature in his announcement.
"The position mentioned is a Secretarial appointment," a DHS spokesperson said. "Such senior positions are announced by the Department when made official by the Secretary. No such announcement with regard to the Office of Public Engagement has been made."