President Donald Trump is set to name his pick for the Supreme Court on Tuesday night.
The decision will end months of speculation about who Trump would choose to fill the seat left vacant by the death of Justice Antonin Scalia. (Republicans infamously refused to consider President Barack Obama's choice for that seat, Judge Merrick Garland.) Trump's nominee will also signal just how the president envisions the role of the Supreme Court, and the government's judicial branch in general.
While the process of choosing a Supreme Court nominee is often shrouded in secrecy, Trump has been more open. This past September, he published a list of 21 potential choices—largely seen as a who's who of the judiciary's right wing. Since then, those close to the process have indicated that Trump has narrowed his selection down to three possible nominees: Neil Gorsuch, Thomas Hardiman, and William Pryor.
So who are these three men, and just where do they stand on the issues? Here's what you need to know:
---
Neil Gorsuch
Judge Neil Gorsuch was appointed to the 10th Circuit Court of Appeals by President George W. Bush in 2006. A graduate of Oxford and Harvard, Gorsuch clerked for a number of conservative judges, including Supreme Court Justices Byron White and Anthony Kennedy. As SCOTUSBlog notes, he is considered "the most natural successor" to Justice Scalia in many regards—he has spoken publicly about trying to follow in Scalia's footsteps—and, at the comparatively young age of 49, would be a long-term presence on the court.
G/O Media may get a commission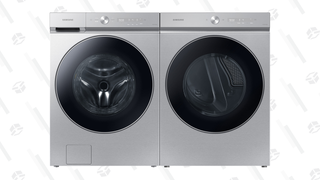 Get $500 back in credit
Last Chance: Samsung Bespoke AI Washer and Dryer Preorder
Judge Gorsuch is known primarily for his views on religious liberties. His 2013 10th Circuit writings on Hobby Lobby Stores v. Sebelius supported the craft chain's religion-based resistance to providing contraceptives under President Obama's Affordable Care act—a decision that was subsequently largely upheld by a Supreme Court ruling. Shortly thereafter, Gorsuch expressed similar views in the case ofLittle Sisters of the Poor Home for the Aged v. Burwell. In other words, should Judge Gorsuch be confirmed, he could possibly side in favor of those for whom "religious liberty" is used to justify everything from denying certain types of health care to women, to discriminating against members of the LGBTQ community.
---
Thomas Hardiman
Judge Thomas Hardiman was appointed to the 3rd Circuit Court of Appeals in 2007 by President George W. Bush. Since then he has earned a reputation as a judge with thoroughly conservative bona fides. Although he has yet to publicly weigh in on cases involving abortion rights, Hardiman has regularly come down to the right on a number of other conservative sweet spots, including firearms, prisoner's rights (or lack thereof), and free speech.
In 2013, Hardiman dissented from a majority opinion in the case of Drake v. Filko, and argued that a New Jersey law which required those applying for a permit to own a handgun to demonstrate "justifiable need" was, in fact, in violation of the second amendment. Similarly, he argued in 2016 in favor of two men who, as SCOTUSBlog explained, had been convicted of "corruption of a minor and carrying a handgun without a license," saying that a federal ban on gun ownership for convicted felons should not apply in their case.
Hardiman has also ruled in favor of New Jersey's laws allowing the strip searching of jail detainees, saying such a search did not violate their 4th Amendment rights, and was a case of "balancing the jails' security interests at the time of intake before arrestees enter the general population against the privacy interests of the inmates."
Arguably Hardiman's most well-known opinion came during a 2013 case, in which he dissented from a majority ruling in favor of allowing middle school students to wear "I ❤️ Boobies" bracelets to raise breast cancer awareness. In his dissent, Hardiman argued against the students' right to free speech, explaining that it was "objectively reasonable to interpret the bracelets, in the middle school context, as inappropriate sexual innuendo and double entendre."
---
William Pryor
Rounding out Donald Trump's likely top three choices is William Pryor, currently a judge on the 11th Circuit Court of Appeals, and considered by far "the most polarizing" of Trump's potential nominees, as the Washington Post noted.
A former two-time Attorney General for Alabama, Pryor has reportedly referred to Roe vs. Wade as "the worst abomination in the history of constitutional law," and wrote a brief in favor of a Texas law banning consensual LGBTQ sex, comparing it to "polygamy, incest, pedophilia, prostitution, and adultery."
Pryor was named the "most demonstrably anti-gay judicial nominee in recent memory" by LGBTQ legal advocacy group Lambda Legal in 2005. Lambda cited Pryor's "clear hostility to the rights of lesbians, gay men, bisexuals, transgender people and those with HIV – and also to women, people of color, disabled people and others."
Pryor has also argued against a challenge to Georgia's voter ID statue, and sat on a three-judge panel which ruled in favor of Alabama's state house and senate redistricting efforts, which had been criticized as violating the Voting Rights act. That ruling was subsequently reversed by the Supreme Court.
---
While it remains to be seen which of these three men (if any) President Trump will tap to fill Justice Scalia's open seat, what's certain is that they're likely to be confirmed.