After her son died in NYPD custody almost a year ago, Eric Garner's mother, Gwenn Carr, breathed her first sigh of relief. "If this is it, then we applaud the governor," said Carr at a press conference on Tuesday anticipating an executive order, by New York's Andrew Cuomo, to assign a special prosecutor in police-involved civilian deaths. New York will be the first state to set this precedent, according to the governor.
Previously, district attorney's offices in New York investigated police-involved deaths and determined if officers were criminally responsible—a fact that many victims' families and civil-rights groups viewed as a conflict of interest since, generally, DA's offices works closely with local law enforcement agencies to bring charges against civilian criminals.
Cuomo announced New York's Attorney General Eric Schneiderman as the special prosecutor on Wednesday.
"I'm proud of what we did," said Cuomo at John Jay College of Criminal Justice, where he signed the executive order. "We discussed the issues," he said. "We discussed them honestly, we discussed them without emotion and without bias, and that's what makes New York special."
Schneiderman said his office would investigate the cases "thoroughly and impartially."
G/O Media may get a commission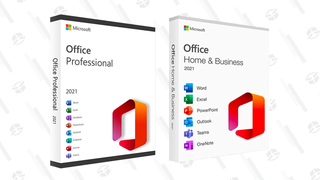 89% off
Microsoft Office Professional 2021 Lifetime License
It's been seven months since a Staten Island grand jury decided not to charge NYPD officer Daniel Pantaleo in the death of Garner. In the wake of that decision, lawmakers, protesters and civil rights leaders began to call for a special prosecutor in all cases like Garner's going forward.
In April, Carr, along with a small group of other families with similar circumstances, met with the governor and implored him to sign an executive order for a special prosecutor.
On Tuesday Carr spoke at a press conference once again urging the governor to follow through with his promise to her and the other families.
But Carr—and the other families—have not been speaking to change their loved ones' cases. "This isn't for us, it's for the families after us," said Constance Malcolm, mother of Ramarley Graham who was shot and killed by the NYPD in 2012. Malcolm's perspective was echoed among the other mothers and victims' family members who spoke, including Carr.
Gov. Cuomo verbally committed to renewing the order every year he remains in office, said Yul-San Liem of the Justice Committee, an organization that has worked closely with the victims' families to get a special prosecutor appointed. By the time of publication, Cuomo did not announce whether he planned to renew the order every year.
"We are here today to say we are close to a victory and it is only because of the work of these families," said State Senator Gustavo Rivera at the press conference on Tuesday.
Collier Meyerson is a reporter at Fusion with a focus on race and politics. She lives in Brooklyn.