Makeup is one of my many hobbies. I'm not a makeup artist, a "beauty guru," or even particularly gifted in the arts of contouring and blending, but I know my way around Sephora and love how different I can make my face look with just 10-20 minutes of careful application using brushes, sponges, and fingertips. After investing in makeup removal wipes (following the desperate pleas of my dermatologist), I noticed that my bathroom trash can began to fill up with smudgy little faces — remnants of my busy days and nights.
What follows is a diary of the face that faced the world for 6 days (the 7th day is for rest/makeup-free chilling, obviously):

Sunday
Sundays I try to shoot a few videos for my YouTube channel. On those days, my makeup is a little heavier and brighter because cameras and commenters can be pretty unforgiving. A little metallic green on the lids and my latest lipstick obsession (Fanny by Nars) carried me through three video shoots and obligatory friend-margaritas after.
Monday
G/O Media may get a commission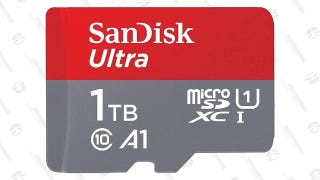 Save $75
SanDisk Ultra 1TB MicroSDXC Card
Though our office is a ~pretty chill~ work environment, I like to wear makeup as a contrast to my slacker wardrobe choices (black jeans, dirty sneakers, graphic tees, with a hoodie -OR- a patterned skater dress are my usual uniform). This particular Monday ended with post-work dinner and drinks that encouraged some dark eye shadow and heavy eyeliner (and the same lipstick, obviously). Side-note: that curl is from the top of my head, I don't just have a single long curly hair on the left side of my chin.
Tuesday
Once upon a Tuesday I had tickets to a show. In NYC, if you go to a show without any attention to your appearance, you're prooooobably a tourist. I chose this super dark lipstick — Nars matte lip pencil in Train Bleu — that stays on pretty much forever (there was still some left the next morning) to create a look that said, "I'm artsy, but I clearly don't want to talk to you about it right now."
Wednesday
I like to think green makes a pretty solid neutral color on medium and dark skin tones. It also draws attention away from the zit monster that decided to invade my chin that day. The color looks pretty extreme on this wipe, but it wasn't quite so dramatic IRL. Another full work day followed by meetings and a late dinner and somehow the blemish had calmed its ass down.
Thursday
Early morning interview at Good Morning America studios
Work + lunch meetings + more work + work meetings
A nap where most of it rubbed off on my white pillow cases 😑
More blush (MUFE HD Blush in 510) added for random drink date with a friend visiting from out of town.
More lipstick because I didn't have chapstick but I needed something to solve my heinous chapping issue.
Friday/Saturday
I don't really remember this whirlwind of a Friday, which was actually the Saturday morning after because I forgot to take off my makeup. Sorry, derm.
Here's the lot of 'em, in grid form for your viewing pleasure:
Looking back on these faces made me regret throwing them away. They're like little portraits, reminding me of who I saw, what I did, and how I chose to face the world during what at the time felt like a pretty standard week. There's a little bit of beauty in everything — even the bathroom trash.
Photos by Akilah Hughes.
Akilah Hughes is a comedian, YouTuber, and staff writer and producer for Fusion's culture section. You can almost always find her waxing poetic about memes and using too many emojis. 🍕