Things are dark in America right now. I'm not going to enumerate the reasons why. You know. I know. For just one minute though, let's try to look forward.....to 2020.

Sorry, I know this got dark again really fast but stick with me!!! At this point, the next presidential election is just about two years away, and if you don't want to think about it, I get it, but: President Trump has already started campaigning again. Yes, the run-up to November 2020 is going to be long and it's going to be painful. And yes, the left is still searching for a candidate who might have a shot at taking the White House, and the pool of potential runners has been looking.....grim as hell.
It's not over yet though. On September 24, a hero emerged from a place that was both unlikely and *chef's kiss*: Philadelphia.

Holy shit, can you believe we've only known about Gritty for like two-ish weeks?? It feels like a goddamn lifetime, in a good way. The Philadelphia Flyers mascot skated onto the scene and straight into our hearts in mere hours—but could he also glide into our voting booths one day? The googly-eyed dream might not be explicitly leftist, but he was quickly adopted by the left—a group that needs as much energizing as it can get!—and The Wall Street Journal got mad about it, which is honestly all you need to know to glean that this development is extremely good. But exactly how far can Gritty go?
G/O Media may get a commission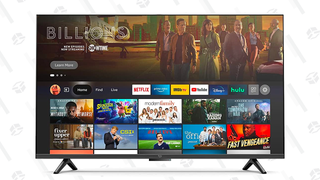 22% off
Amazon Fire TV - 50" Omni Series 4K - Early Access Deal
Think about it: Another unpredictable, orange-haired maniac on the political scene, but this time a GOOD one? This could be the No Strings Attached vs. Friends with Benefits, Capote vs. Infamous, The Prestige vs. The Illusionist, Deep Impact vs. Armageddon drama we need. But is he enough to get the job done? Well, the universe had something else in store for us this fall. Something we never saw coming.
On October 8, Taylor Swift, who has been notoriously and disappointingly silent on politics throughout her career, posted this Instagram:

"These are not MY Tennessee values"???? Clear support for Democrats and progressive platforms? Dragging Marsha Blackburn straight to hell?? Yes to all of this!! It should be noted that Phil Bredesen is a firmly centrist Democrat, but Swift's endorsement could prove valuable in a tight race in a conservative state. Following her post—which included broader call to get out and vote—it was widely reported that voter registration spiked. Whether that can be directly attributed to Swift is unclear, but what is clear is this: these two powerhouses are the Democratic ticket we've been waiting for.
Just imagine it. He's the unpredictable far-left candidate who appeals to Democratic socialists, Bernie supporters, the working class, and....sports people, I guess? She's the center-left candidate from the South who understands the other side and isn't afraid to alienate her fans if it means Doing What's Right. Radical and folksy. Bold and compassionate. Gritty. And. Taylor. How could the American electorate possibly say no?
Aside from the appeal of a winning ticket, the photo ops stemming from this campaign would be killer!! He'd amp up the crowds at rallies with his zany charm and she'd withhold singing on the campaign trail until just the right moment. There'd be celebrity supporters, fun late night appearances, incredible merchandise, and most importantly, a campaign committed to Medicare for All, banning ICE, comprehensive criminal justice reform, aggressive climate change action, LGBTQ rights, women's rights, worker's rights, and combating "systemic racism." We assume.
Just picture it:
Don't ask me who'd be VP and who'd be president, I don't care!! And haters can back off with labels of GRIFTY. This is a campaign, not a celebrity couple and we will not tolerate portmanteaus. In conclusion, Taylor Swift and Gritty should run for office in 2020. This is the change we need.