Netflix's sleeper hit "Orange Is the New Black" is back for a second season right this very second, and the diverse, talented cast has been everywhere from "The Late Show" to the cover of Time magazine to promote it. There is even a hotel in Washington, DC, who is renting out suites to groups of friends who want a cushy place to mainline all the new episodes of the show in one sitting.
But if you're a little late to the OITNB party, don't worry—it's not too late to get hooked. The show is set in a women's minimum security prison in Connecticut and is based on the memoir of the same name by Piper Kerman (called Piper Chapman on the show), a white, upper-middle-class woman convicted on long-ago drug charges who finds herself struggling to fit in and stay out of trouble while in jail. The show focuses on stories and experiences from women of color, queer women, and trans women, making it unlike almost anything else on TV now. It doesn't just pass the Bechdel Test—it smashes it.
So, here's what you need to know about each major character, what they've been up to so far, and what we think might happen next.
PIPER (Taylor Schilling)
G/O Media may get a commission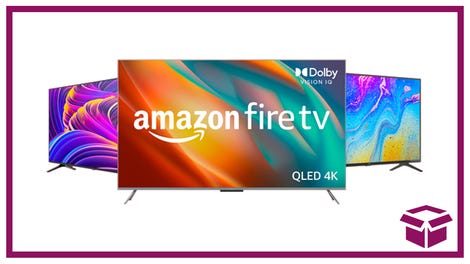 Ooh. stunning.
New Amazon Fire TVs
During season one, we learned that Piper, who lives a yuppie life in Brooklyn running a beauty company, used to be in a lesbian relationship with a woman who was a drug runner and got Piper into the business. Years later, when the woman (Alex, who we'll get to in a sec) was caught, Piper got busted too. While Piper and Larry struggled to make their relationship work, she began an affair with Alex, who just so happened to be in the same prison. In the final episode of season one, Piper finally got physical and brawled with her prison nemesis, Pennsatucky. Next season, we'll likely see the fallout of that event. We'll also get more breakdown of the Piper/Alex/Larry triangle and find out what happens to our heroine's love life. In real life, Piper and Larry are married, but the show has deviated a lot from the memoir on which it's based, and anything can happen.
ALEX (Laura Prepon)
Alex worked in an international drug-smuggling ring and eventually got caught, landing her in jail. Her still-burning love for ex-girlfriend Piper has been keeping her from another potential love match with reformed bad girl Nicky (Natasha Lyonne). Prepon had considered quitting the show but came back for season two, which means there's time to resolve Alex and Piper's relationship for good and hopefully give this troubled but well-intentioned woman a proper resolution.
DAYANARA (Dascha Polanco)
Troubled Daya finds herself in prison—right alongside her own mom. Their family drama became even more intense in season one, when Daya fell in love with one of the prison guards, Officer Bennett, and became pregnant by him. Now, she's got to figure out a way to be with the man she loves without getting him fired and arrested for having a relationship with her. Since a pregnancy sets a pretty specific time limit, her season two story line will be all about figuring out what to do before the baby comes.
Check out Fusion's interview with Polanco here.
RED (Kate Mulgrew)
Redheaded Galina, aka Red, is the mom of the prison. She used to run the entire kitchen, making her one of the most powerful women in the prison, but due to a power struggle with one of the guards (known as "Pornstache") she was demoted. This season will be all about the Red vs. Pornstache feud —Red's smart as hell and feisty, so she's likely to come out on top. And when she does, it'll be a victory for all the women.
SUZANNE, A.K.A. CRAZY EYES (Uzo Aduba)
Although her prison nickname is Crazy Eyes, we got a small glimpse of Suzanne's inner life last season—this deeply sensitive woman was raised by a white, upper-middle-class family and loves to sing. She also had a huge unrequited crush on Piper, who rebuffed her in a pretty cold way. We'll get to know more about Suzanne and her back story this season, thus putting Crazy Eyes behind us forever.
SOPHIA (Laverne Cox)
As a trans woman in prison, Sophia's story was about identity. In one episode she had to fight the system in order to continue getting her hormone meds, and in another she dealt with the fact that her wife and son (from when she lived as a man) were having trouble connecting with her. Thanks to actress Laverne Cox's off-screen stardom, expect to see a lot of Sophia this season, possibly organizing the inmates for a protest or simply making all of them look as beautiful as possible (she's the prison hairdresser).
PENNSATUCKY (Taryn Manning)
Trashy redneck bad-girl Tiffany, a.k..a Pennsatucky, became an accidental celebrity when she shot an abortion clinic employee and became a heroine of the Christian right, leading to her own religious conversion. Now, Pennsatucky leads up the Christian wing of the inmates and spars with her biggest rival, Piper. Their rivalry came to a head during the season one finale, where Piper gave in to her prison aggression and beat Pennsatucky up. Since Manning has been upgraded from guest star to regular this season, expect that rivalry to become even more intense, probably dragging in other inmates as everybody chooses sides.
HEALY (Michael Harney)
As a corrections officer at the prison, Healy often has a thankless job. At first he befriends Piper and tries to help her, but eventually she is better off casting her lot with the other inmates than with him and he turns on her. Healy has a pretty tough year in store for him, as he deals with two things that happened in the final episodes of season one. Dayanara's assertion that Pornstache raped her (a cover story to explain the pregnancy and obscure the real dad's identity) and an investigation into the prison and its possible mismanagement of funds that was kicked off by a story that Piper's fiancé Larry did for NPR.
There are quite a few other characters we couldn't get to in this roundup, including the hilarious BFF comic relief team of Taystee and Poussay, the mysterious Miss Claudette, and the reformed bad girl Nicky Nichols. But the fun of "Orange Is the New Black" is that there's such a wide diversity of characters that everybody has a favorite, and one of the most enjoyable parts of the show is figuring out who yours is. Ladies and gentlemen, prepare to start your Netflixes.
@fusion