For many years, luck smiled upon Joaquín Guzmán Loera, aka El Chapo or "shorty." He dodged death many times. He escaped from a maximum security prison. He outwitted Mexican and US authorities, bent on recapturing him, for more than a decade. He successfully waged war in both Tijuana and Ciudad Juarez. He brutally rid himself of internal and external rivals. By the end of his charmed streak, El Chapo was a millionaire many times over and presided over the world's largest drug trafficking organization, the Sinaloa cartel.
And then yesterday, his luck ran out. Early in the morning, Mexican marines captured him in a small apartment in Mazatlán, a beach resort in northwestern Mexico. Thirteen years after his infamous prison break, the feared Chapo sleeps once again inside a cell.
For Mexico, this is a huge deal for several reasons:
1. It marks the beginning of the end of the Sinaloa Cartel as a cohesive and identifiable criminal entity. One major leader, Ismael Zambada (aka El Mayo), is still free. However, he is 66, in poor health, and on the run. Not exactly the ideal successor. If indeed Sinaloa implodes, the Mexican criminal underworld could face major upheaval. For the first time in two decades, there would be no clearly dominant gang in Mexico. Would that lead to more violence? Probably, at least in the short term.
2. Mexican criminal organizations are undergoing a major historical transition. They are no longer just about drug smuggling. Increasingly, they engage in all forms of rent extraction, from kidnapping to extortion to theft. And they tend to smaller, more local, more territorial, and more violent. The capture of Guzmán is likely to accelerate that process: the Sinaloa spinoffs are more likely to be small, diversified gangs than large-scale drug smugglers.
3. Whatever its long-term strategic ramifications, sending Chapo back to prison is a political coup for the Peña Nieto administration. First, it can claim to be effective: they succeeded where two consecutive non-PRI governments failed. That should provide a temporary boost to the limping presidential approval rating. Secondly, it can put to rest the rumors that the new PRI administration is somehow resurrecting the old policy of tolerating narcos in exchange for peace.
G/O Media may get a commission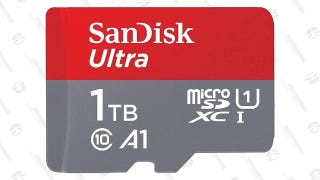 Save $75
SanDisk Ultra 1TB MicroSDXC Card
For the United States, this is also a crucially important development:
1. By all accounts, US intelligence and law enforcement agencies had a hand in finding and detaining Guzman. How significant was their role? Hard to say, but a) the story leaked out in the US and b) Mexican officials did not expressly play down US involvement (as they did in other high-profile detentions last year). Conclusion? The US government probably provided key assistance in the operation. If so, that would mean that mutual suspicion between the Peña Nieto team and US intelligence agencies has finally eased.
2. Looking forward, Guzmán provides a great test for the renewed security relationship. Will he be extradited to the US? Hard to say. Indeed, US law enforcement would love to have him (can there a better source on drug smuggling? A better witness on countless cases, if they could somehow flip him?). Meanwhile, Mexico might be wise to send him north (after all, he has already escaped from a Mexican prison once).
However, politics could get in the way: the message that he cannot be controlled inside a Mexican prison is probably not one the Peña Nieto team wants to send. So this will be an interesting process. What will weigh more for the Mexican authorities: domestic political considerations or improved ties with the US?
In brief, putting Shorty behind bars will be transformative for Mexico and the United States. It marks the end of an era, the closing act of the age of the capo. Now comes something potentially more toxic, but certainly quite different than the old-style cartels: a complex ecosystem of smaller, more violent, more extractive gangs. Will there be the same relentlessness in tackling that threat as there was in chasing Chapo? That is one of the big unanswered questions that comes out of this momentous day.
Alejandro Hope is Director of Security Policy at IMCO, a Mexico City-based thank tank.