For the second year in a row, the Academy Awards did not nominate a single person of color in any of the four acting categories, prompting boycotts by some black filmmakers and a renewal of the biting hashtag #OscarsSoWhite.
Now, one Oscar nominee has responded to the controversy, declaring that she does see racism—against white people.
Charlotte Rampling, a Best Actress nominee for 45 Years, has weighed in now with the stunning remark in an interview with a French radio show, describing the planned boycott as "racist to whites."
According to The Guardian, Rampling, who is 69, added, "One can never really know, but perhaps the black actors did not deserve to make the final list." (This is an argument that's been trotted out elsewhere already this award season.) When asked by the interviewer about whether the awards show should adopt quotas, Rampling replied "Why classify people? These days everyone is more or less accepted…someone will always be saying 'You are too' [this or that] … But do we have to take from this that there should be lots of minorities everywhere?"
Earlier this week, Academy Awards president Cheryl Boone Isaacs announced that there would be a review of recruiting measures to boost diversity among Oscar voters. The Academy is also considering increasing the number of nominees in certain categories.
G/O Media may get a commission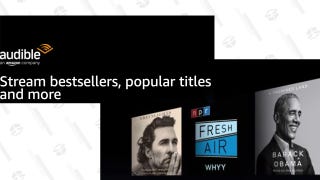 FREE
Audible Premium Plus 3-Month Free Trial
Some prominent black filmmakers and actors, like Spike Lee and Will and Jada Pinkett Smith, have already announced a boycott of this year's ceremony. Best Supporting Actor nominee Mark Ruffalo (Spotlight) told a reporter he was considering joining the boycott before ultimately deciding to attend, but saying on Twitter "the nominations do not reflect the diversity of our community." Best Actress nominee Brie Larson (Room) took to Instagram to say #OscarsSoWhite is a conversation that deserves attention. ."
Speaking to The Guardian, Screen International editor Matt Mueller said the interview had torpedoed any chance of Rampling winning the award as her comments "will not go down well with American Oscar voters at all."
This year's ceremony will be hosted by Chris Rock, who has been called to join the boycott but is expected to remain as host. It is very likely he will have something to say about this.
Disclosure: The Oscars will air on ABC, a part owner of Fusion
David Matthews operates the Wayback Machine on Fusion.net—hop on. Got a tip? Email him: david.matthews@fusion.net