In our rush to keep the flood of tears at bay during this final season of Parks and Recreation, I feel like we're forgetting the most important event of the season: Donna Meagle is getting married.
In this sneak peek we find out April is already slated to be her maid of honor, but who else is bold enough to stand next to our favorite wide-eyed, side-eyed character of all time during her wedding? If the Meagle crew is as cold-blooded and judgmental as she says they are, Donna is going to need some people to run defense during the ceremony, and here are our top 3 picks for badass bridesmaids.
Nicki Minaj
G/O Media may get a commission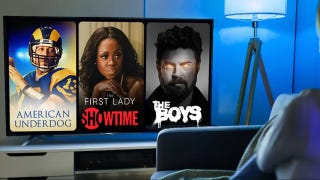 UNDER $1
99¢ Prime Video Channels
Oh, like Ginuwine's cousin wouldn't have a direct line to Nicki the Ninja? If any of the Meagle's step out of line, Nicki could freestyle a rap so blistering half of the congregation would burst into flames.
Shannen Doherty
I'm pretty sure she and Donna crossed paths at some point, maybe at a Hollywood party or a lost weekend. I feel like Shannen would throw elbows if the caterer forgot the right serving spoons, or the flower girl was walking too slow.
Jennifer Lopez
Don't make her get her Bronx out! But she totally will if you can't get that veil on correctly.
Danielle Henderson is a lapsed academic, heavy metal karaoke machine, and culture editor at Fusion. She enjoys thinking about how race, gender, and sexuality shape our cultural narratives, but not in a boring way.