Nancy Pelosi. Chuck Schumer. The Clintons. The Kennedys. The faithful leaders we have known so long. We thank you for your service. Now get out.
"Public service" is what we call elected political work in America, and most people say it wryly now, with a wink, with the unstated understanding that that is not really what it is about. In practice it is often about fame and money and careerism. It is about the old fashioned exercise of accumulating and using power. Yes. Power, though, should be used to serve the public. Whether it is used to serve the public, or whether electoral politics is purely a quid pro quo process of doing favors for those who can help you achieve ever greater career goals. The existence of the standard of politics as service is completely dependent upon constant enforcement by the electorate. If we don't enforce it, it won't exist. Even politicians whose original motivation for entering politics is pure will naturally morph into pure institutional functionaries over time—first, because that is the only way to gain the power you need to put your priorities into place, and, over time, because that is how the lofty career to which you have become accustomed is maintained.
Any honest appraisal of the Democratic Party as an institution must concede this basic point: It's failed. Not in every race, or every district, or on every issue, but as an institution committed to ideals like equality of opportunity and equality under the law and progressive economics and strong public institutions that serve everyone and the effective functioning of our democracy in a way that reflects the will of our changing population, the party has failed. It has been the losing participant in a decades-long battle to move our government to the right, a battle that the right has won and continues to win. And many of the Democratic Party's electoral successes have been achieved by moving to the right itself. No serious person can deny that the party today is thoroughly unmoored from its ideals. It is not an effective tool for achieving those ideals—grand political policies that serve everyone—nor has it been for some time. As the party has become mired in the muck of right-left triangulation and sunk into weariness, it has swept along all the politicians who have chosen to tie their careers to it, a murky, bubbling ooze of mediocrity. I do not particularly care whether or not the leaders of the Democratic Party are good people at heart. I care that they have presided over a political failure that has cost millions of Americans and billions of people around the world in very tangible ways. Their claim to continued leadership is weak. So they should get out.
I do not care who has "paid their dues." Paying dues is a concept associated with organizations that serve you. It is not the sort of paradigm that we should apply to the leadership of organizations in which you are expected to serve the public. I do not care who can claim to have decades of experience. Those decades of experience coincide with the post-Reagan ideological ass-whipping that has left America in its worst inequality crisis in a century. That is not the sort of experience I consider especially valuable. I do not care who has developed deep ties with wealthy Democratic funders. Their money has, in the big picture, been wasted. They can bring their funding along to more effective leadership, or become Republicans. It is not the job of the public to cater to them.
When the old way has been proven not to work you have to try something new. Everyone understands this intuitively, except for people whose prestige and salary and identity and power depend upon the old way. Those people will never understand it no matter how hard you try. So they have to go. It is not about old people or young people—it is about new ideas. We need people running the Democratic Party who will try new ideas because the old ideas have gotten us to where we are today, which is unacceptable. This is not a radical concept. It is common sense. We afford great power to political leaders when we give them a chance to run things. If they fail, they should say goodbye gracefully so that we can give the next thing a try. If you conceive of their positions as positions of public service, this is obvious. The needs of the public are pressing and constant and of the highest possible importance, so why spend longer than necessary failing to do what needs to be done to help them? It is only if you conceive of elected office as a reward to be lavished on those who have subordinated themselves to the perpetuation of a flawed system that sweeping away those who have "climbed the ladder" seems like some sort of offense. The ability to successfully climb the political ladder is directly correlated with the full embrace of the current structure and strategy of the Democratic Party and the goals of its backers. The success of those who have climbed the ladder to the top is a demonstration of their allegiance to the current order. It is a binding tie to the legacy of the party as it is already constituted. When we acknowledge that the current order has produced mostly failure, we implicitly acknowledge that those who have branded themselves leaders have also failed. It's not personal. We can have the arguments about specific names another day. The first step is acknowledging you have a problem.
G/O Media may get a commission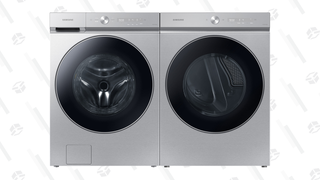 Get $500 back in credit
Last Chance: Samsung Bespoke AI Washer and Dryer Preorder
The human needs of 300 million Americans are more important than the egos of a small handful of political climbers. Even if they were doing it for all the right reasons, their strategy turned out to be wrong. So we move on. Their loss is the world's most minor tragedy. And the public, who has lost much more, does not need to cry for them. If they are as good as they say, they will go home and cry for us.