A petition surfaced on Charge.org last week asking that LGBT-oriented organizations and media outlets "drop the T"—or, drop transgender people—from their advocacy and coverage. Although the petition has received over a thousand signatures so far, it has been met with fervent backlash, a counter-petition, and public denouncements by two of the organizations it has asked to "drop the T."
The petition was posted anonymously by a "group of gay/bisexual men and women." They say that "the transgender community needs to be disassociated from the larger LGBT community" for a bunch of transphobic reasons that aren't worth getting into. One of the men behind the petition anonymously explained his position to The Federalist, calling trans activism "radical and alienating."
While the petition still hasn't reached its goal of 1,500 signatures, some of the LGBT organizations it addresses have already responded to its request. The Human Rights Campaign denounced the petition as "unequivocally wrong."
GLAAD called it "outrageous and destructive" and stated that: "At a time when anti-LGBT activists continue to attack the basic rights and protections essential to all of our lives, we must stand together, rather than succumb to the ruin of divisiveness."
The Advocate reported on the petition's existence and debunked many of its transphobic claims without expressing outright support or condemnation. Lambda Legal, Out magazine, and HuffPost Gay Voices have so far not addressed the petition.
G/O Media may get a commission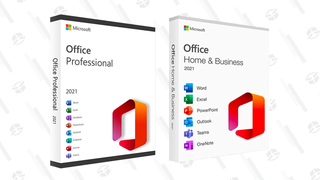 89% off
Microsoft Office Professional 2021 Lifetime License
A counter-petition, which Pink News dubbed "keep the T," has since appeared on Change.org, calling for solidarity with trans people under the larger LGBT umbrella. This petition has gathered nearly 1,000 more signatures than the initial "Drop the T" petition.
Bad at filling out bios seeks same.