In an apparent jab at President Trump's bigoted attempt to temporarily ban refugees from entering the U.S., OXFAM rented his childhood home and invited refugees inside to share their understanding of the American Dream. As the Trump administration prepares to decide how many refugees the U.S. will accept in the next fiscal year, OXFAM's message was abundantly clear.
"It has never been more important for Americans to use their voice to let their government know that refugees are welcome here," OXFAM, an international anti-poverty charity, said in a statement. "A cornerstone of the founding values of the US was to offer oppressed people refuge from violence and persecution."
Trump's childhood home had been available to rent on Airbnb since the summer and according to NPR, OXFAM paid $725 to rent the Queens property. Most of the rooms were adorned with Trump memorabilia—if you can even call it that—and there's at least one bust and a faux Warholesque rendering of Trump on the wall.
They invited four refugees inside Trump's former home: Uyen Nguyen, who fled Vietnam when she was 10-years-old; Ghassan al-Shehadeh, a 41-year-old Syrian refugee who came to the U.S. in 2012; Abdi Iftin, who left Somalia for Kenya as a toddler, arriving in the U.S. two years ago; and Eiman Ali who also fled Somalia.
G/O Media may get a commission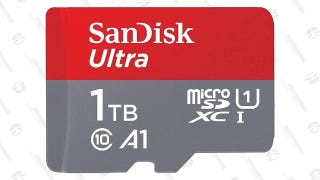 Save $75
SanDisk Ultra 1TB MicroSDXC Card
"To have someone so outspoken against my community become the president of the United States was very eye-opening and hurtful because I have invested a lot in this country," Ali said in an interview with the Associated Press.
OXFAM's appeal also comes at a critical moment when the Supreme Court will decide whether Trump's refugee ban is constitutional and Congress will finalize how much they are willing to spend on refugee resettlement, an "unprecedented moment in recent US history," the organization said.
Should all three branches of the U.S. government limit how many refugees are welcomed into the country, an historically high number of refugees will suffer. Nearly 66 million people around the world are displaced, according to a United Nations report. A majority of those displaced people come from Syria, South Sudan, and Afghanistan.

OXFAM produced an impactful short video with interviews from Iftin, Ali, Nguyen, and al-Shehadeh inside Trump's childhood abode: