Similar to their American counterparts, students at one of the UK's top universities are calling for the removal of a campus statue they believe symbolizes an ugly, racist history.
The statue at Oxford University at the center of the controversy depicts Cecil Rhodes, a businessman and colonial politician. He was pretty busy in the late 1800s, pushing through a set of laws in South Africa that set the precedent for apartheid, establishing Zimbabwe (formerly Rhodesia, in his honor) and the De Beers diamond company.
Students say his statue, erected in 1911, is a symbol of colonial-era oppression and white privilege and that it should be taken down from the grounds of Oxford's Oriel College.
G/O Media may get a commission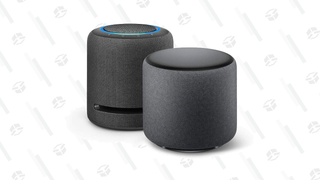 25% off - Prime Exclusive
Echo Studio + Echo Sub Bundle
"We find it deplorable that Oriel College continues to glorify an international criminal through its uncritical, deeply violent iconography," the group wrote in a Change.org petition to the university. "As long as the statue remains, Oriel College and Oxford University continue to tacitly identify with Rhodes's values, and to maintain a toxic culture of domination and oppression. We believe that the colonialism, racism and patriarchy this statue is seeped in has no place in our university—which for many of us is also our home."
The college has said that they will hold a "listening exercise" to hear out objections to the statue starting in February this year. But University Chancellor Lord Patten, a former Governor of Hong Kong, responded to the students today by telling BBC Radio 4 that if they don't like it, "maybe they should think about being educated elsewhere."
Patten said removing the statue would be tantamount to stifling academic debate and freedom of speech at Oxford, and went on to say that Cecil Rhodes was probably not any more racist than other prominent figures of his time, like Winston Churchill.
"The focus on Rhodes is unfortunate but it is an example of what is happening in American campuses and British campuses," he said in the interview. "One of the points of a university, which is not to tolerate intolerance, to engage in free enquiry is being denied. People have to face up to facts and history which they don't like and talk about them and debate them."
The chancellor argued that tearing down the statue doesn't make sense because Rhodes gave a lot of money to Oxford University, and established the Rhodes Scholarship fund, which to this day helps students attend top universities.
But student activists say there's a difference between acknowledging history and glorifying oppressive figures in monuments like the Rhodes statue. The monument, they say, does nothing to acknowledge the brutal policies and institutionalized discrimination that Rhodes supported.
A group of Rhodes Scholars, close to 200 recipients of that award, wrote a letter to the Guardian newspaper today saying that the scholarships don't buy their silence about Rhodes' historical misconduct.
"There is no hypocrisy in being a recipient of a Rhodes scholarship and being publicly critical of Cecil Rhodes and his legacy—a legacy that continues to alienate, silence, exclude and dehumanise in unacceptable ways. There is no clause that binds us to find 'the good' in Rhodes' character, nor to sanitise the imperialist, colonial agenda he propagated," they wrote.
The group also points to how Rhodes, a firm believer in British imperialism, probably didn't intend for those scholarships to go to diverse, sometimes anti-establishment intellectuals.
The controversy at Oxford follows students at South Africa's Cape Town University successfully getting a statue of Rhodes taken down from their campus last year. "It is dishonest to deny the inherently celebratory nature of the Rhodes statue, and historical statues in general. While removing one won't change institutional cultures overnight—or transform the demographics of staff—it would be an important symbolic start," wrote Eusebius McKeiser, a black South African writer, in the New York Times at the time.