Pandora is celebrating 10 years of personally curated radio stations by giving listeners ad-free listening all day on September 9, from midnight to midnight. They've also created some specially curated stations for listeners—like Swamp Rock, Shoegaze Love Songs, and Hip Hop BBQ—in celebration of their decade of life.
The best gift Pandora has given us for its own birthday, though, is a playlist they're calling the 10x10 mixtape. According to a Pandora press release, these are 10 of the most popular songs among users from each of the last 10 years, which were determined by finding the top "thumbed-up songs." What that means is that when a user is listening to Pandora casually in the background, and a song comes on that they love so much they wish they could hear it every day for the rest of their Journey-filled lives, they reopen the tab (or app, or car thing) and choose to hit the little thumbs-up icon.
Over the 10-year life of the company, Pandora has logged more than 55 billion likes, so this top (almost) 100 list isn't coming from a small sample size. These really are some of the most thumbed-up songs ever.
I opened this playlist expecting to find a bunch of Beyoncé and maybe a hit by AC/DC or something along those lines, but the songs that Pandora users have thumbed up the most over the past 10 years are both completely understandable and unbelievably mind-boggling.
1. Katy Perry's "Dark Horse" (2013)
G/O Media may get a commission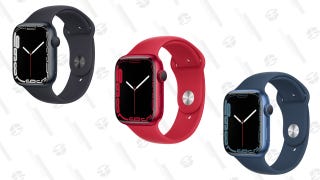 Up To $45 Off
Apple Watch Series 7
I'm actually not sure if there is a more infectious pop hit than Katy Perry's "Dark Horse." The song was one of the most-viewed YouTube videos the year it came out, and Perry's variation of sound from her typical bubblegum pop to a slightly darker, more emotional core certainly makes the song more accessible to lovers of other genres. There is a trap snap in the background, after all. I thumbed this song up less than halfway through the first verse.

2. Rhett Miller's "Come Around" (2002)
After Perry's hit, I expected this list to be a fun pop group of hit songs, but immediately I was proven wrong. The people of America! They like different things! Rhett Miller's "Come Around" sounds like the breakup montage in the middle of a John Hughes movie, but it was actually recorded in 2002.
"Am I gonna be lonely for the rest of my life?" Miller sings over and over again with varying degrees of emotion in the chorus. Miller is better known for his work with the alternative band the Old 97's, but to be honest, this song is better than anything the Old 97's have ever produced. It's enjoyable. It's moody. And it's pretty easy to love.

3. Jason Derulo's "Talk Dirty" (2014)
I would take a first-class seat on Jason Derulo's lap anytime, to be honest.

4. Journey's "Don't Stop Believin'" (1981) 
I am amazed that "Don't Stop Believin'" is thumbed up so much and not skipped all the time since it feels like it takes an infinity to get through this four-minute song. A giant thank you to all the moms and dads in Middle America still dancing to Journey in their living rooms!
5. Drake's "The Motto" [edited] (2011) 
Because Pandora is radio, all songs get the radio-edit treatment, meaning that there is no cursing allowed. This, of course, is always done incredibly sloppily. Drake's "The Motto" is a total hit and I'm completely unsurprised to see it in the top 10 from 2011, but it's so ridiculous to listen to this song without any cursing because every single sentence has some weird sound to cover up a word.
6. A$AP Rocky's "Fuckin' Problems" [edited] (2013)
I thought "The Motto" was funny edited, but this song doesn't actually have any words in it. The intro to this song is supposed to go: "I love bad bitches, that's my fucking problem / And yeah, I like to fuck, I got a fucking problem." Instead it just sounds like someone is screaming nonsense. That said, the verses are still great, and I listened to the whole song.
7. DJ Snake & Lil Jon's "Turn Down for What" (2014)
I can only assume that this song was on a bunch of pre-game and basement party playlists, because it has so many buildups throughout its three-and-a-half-minute run time that it's easy to feel exhausted by the end, unless you really have no reason to turn down.
8. Ed Sheeran's "Thinking Out Loud" (2014)
It's worth noting that there are a disproportionate number of songs from 2014 in this list. This might be because, as Pandora's user base continues to grow, there are more people liking songs every year, but it could also indicate that the lifespan of hit songs is very, very short. Maybe the reason that these songs all have so many thumbs up as calculated at this moment is that no one has gotten sick of them yet. But that day will come. Soon we will wave goodbye to "Thinking Out Loud," just like we did to John Mayer's "Daughters."
9. Disturbed's "Prayer" (2002)
I can't. I just. How.
10. Queen's "Fat Bottomed Girls" (1978)
If we've learned anything from this list, it's that Queen and Journey will outlive every last one of us.
These are the 10 songs I got the first time I listened to the playlist, but there are far more songs in the database in total. (My second listen brought me, for example, included the Fray, Train, Drake, and John Legend). It's certainly a trip down memory lane.
Listen to the whole playlist on Pandora.
Kelsey McKinney is a culture staff writer for Fusion.