PHOENIX—A steady stream of President Donald Trump supporters trickled down East Monroe Street here for hours. They walked in a single file line while hundreds of protesters across the street chanted "shame, shame, shame!"
Trump supporters who made it into the Phoenix Convention Center on Tuesday waited in line for hours, braving temperatures that reached 107 degrees at one point. Several different anti-Trump groups marched to the convention center and rallied outside.
Shortly after President Trump took the stage Tuesday evening, he said 15,000 people attended the campaign rally at the convention center. "Just so you know, from the Secret Service, there aren't too many people outside protesting," Trump told a cheering crowd.
Phoenix Police Department Sgt. Jonathan Howard told Splinter his agency does not release crowd estimates, "but it would be safe to say demonstrators numbered in the thousands."
G/O Media may get a commission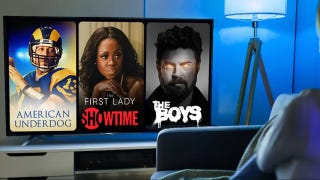 UNDER $1
99¢ Prime Video Channels
The rallies outside the convention center remained peaceful throughout the evening until the president's campaign event ended. By the end of the night, there were at least five arrests: two for aggravated assault on a police officer, one arrest for criminal damage, and an arrest on an unrelated warrant, Police Chief Jeri Williams said during a press conference late Tuesday. She said the department "deployed pepper balls, gas, as well as other things to get people to move out of the area."
Outside the convention center, immigrant rights activist set up giant, inflated figures of the ousted Maricopa County sheriff, Joe Arpaio, and President Trump. Arpaio in a black and white striped prison jumpsuit; Trump's in Ku Klux Klan regalia. Immigrant rights activists outside said they didn't care if Trump made good on rumors that he would pardon Arpaio—for them, the damage was already done.
"You know what, I'll make a prediction: I think he's going to be just fine, OK? But I won't do it tonight because I don't want to cause any controversy," Trump told the crowd. "But Sheriff Joe should feel good."
Last month, U.S. District Judge Susan Bolton found Arpaio guilty of criminal contempt of court for "willfully" violating a judge's 2011 order to stop detaining people solely on the suspicion they were in the country illegally. Arpaio is due to be sentenced in October and could face up to six months in jail.
The necessary paperwork to pardon Arpaio, CNN reported Wednesday, is completed and awaiting Trump's final approval.
---
Arpaio made front page news when he opened an outdoor "Tent City" jail in August 1993. He held inmates in "military-style barracks tents" set up on concrete slabs, even in the summer months. "It's time to get tough around here. And, to get tough, you have to have a place to put the bad guys," Arpaio said at the time, according to The Arizona Republic.

The sheriff replaced hot lunches at the jail with food delivered in brown bags. In his 2008 book, Joe's Law: America's Toughest Sheriff Takes on Illegal Immigration, Drugs and Everything Else That Threatens America, he boasted that the jail spent more money on food for dogs than on the actual human inmates.
"Trump is coming here like there were never any [human rights abuses]," said Elva Patricia Bernal, an undocumented mother of six who was pulled over in 2015 for a license plate issue and admitted to having to two beers. She was charged with a misdemeanor and spent half a day in Arpaio's tent city jail before she was transferred to immigration officials.
"I didn't eat the food they gave me: moldy bread with peanut butter and an orange that was not in a condition you could eat," Bernal told Splinter.
Maricopa County's newly elected sheriff, Paul Penzone, announced in April that Arpaio's tent city jail would be closing. The city's mayor, Greg Stanton, added that the facility had become more of a "circus" atmosphere for the general public.

Bernal is a member of Puente Arizona, an immigrant rights group who helped organize the protest outside of the convention center. "I have faith that God will give us justice, that Trump won't pardon him, and there will be justice for everyone in this country," she said.
Noemi Romero, 26, who was detained in 2013 during one of Arpaio's workplace raids, said during a press call ahead of Tuesday's protests that people like her should be pardoned. "That would be [Trump] correcting a wrong," she said. Romero was swept up in a raid at Lam's Seafood Market in Phoenix, where she was working to save up money to pay for her application for Deferred Action for Childhood Arrivals (DACA), the federal program that provides temporary protections from deportation for young undocumented immigrants.
She was ultimately released, but she now has a felony conviction for using her mother's name and social security number to get the cashier job at the market, according to AZcentral.com. The conviction rendered her ineligible to apply for DACA.
---
A local poll that surveyed 1,065 Arizonans over the weekend found only 21% of respondents believed Trump pardoning Sheriff Joe Arpaio would be a good move.

Immigrant rights activists protesting outside the convention center on Tuesday were intimately familiar with Arpaio's record. Many of them have shown up to marches and rallies against him for years now. And it was local immigrant rights groups who led the campaigns that voted him out of office. The protest also brought out new faces, including people who had never attended a protest before.
"I went to high school in the era of SB1070, that's when Joe Arpaio was at his height terrorizing our community," said 23-year-old Belén Sisa, referring to the controversial 2010 state senate bill that required police officers to determine the immigration status of people arrested or detained they suspected were in the country illegally.
Sisa, a political science student at Arizona State University, told Splinter she is a DACA recipient but identifies as an undocumented immigrant because the federal program is temporary. She was born in Buenos Aires, Argentina, and came to the United States at the age of six.

"The president might want to call it making America great again, but he's making America go backward," said Sisa, who brought three friends with her to the protest, all their first.
An investigation by The Associated Press found that from 2007 to 2010, Arpaio's department was singlehandedly responsible for a quarter of the 115,841 deportations that resulted from 287(g), a federal program that allows state and local law enforcement officers to enforce federal immigration law. Los Angeles County came in a distant second, having sent 13,784 people to the feds.

A 2011 review of traffic stop data by the Department of Justice found the "most egregious" case of racial profiling in the United States that the investigator had "ever personally seen."
Arpaio served as the sheriff of Maricopa County, AZ, for 24 years, starting in 1993 until he lost his re-election bid the same night Trump won the presidential election.
Trump and Arpaio have supported each other for years. Both claimed that President Obama was born overseas and is not a U.S. citizen. In 2012, after Arpaio announced he set up a "cold case posse" to investigate Obama's birth certificate, Trump congratulated him.
They both spew talking points that claim undocumented criminals are more likely to commit crimes, despite multiple studies finding the opposite.
"Illegal immigration is the starting point of expanding criminal conspiracies," Arpaio wrote in his 2008 book.
During the election last year, Arpaio also served as Trump's warm-up act at campaign events on more than one occasion.
"The whole engagement and flirting with pardoning of Arpaio sends a message," Arizona Congressman Raúl Grijalva, a Democrat, told Splinter. "By pardoning Arpaio, you pardon [his] actions."
Congressman Grijalva said Trump's actions and proposals to crack down on undocumented immigrants has led to Arizonans taking action.
"[Arizona] was the petri dish for the worst pieces of legislation," Grijalva told Splinter, referring to SB 1070, anti-immigration legislation that was mostly struck down in courts, ethnic studies bans, and a 2000 ballot measure limiting classroom instruction to "English-only." State officials have also declared teachers who had accents could not teach English-language students.
"I think what it's done for the people of Arizona—of all colors, specifically Latinos—is toughened them up," he said.
We've reached out to Arpaio's attorney for comment and will update if we hear back.