On Friday, Belgian police arrested 26-year-old Salah Abdeslam, the lone living suspect in the brutal Paris attacks that left 130 dead in November. The other nine people suspected of perpetrating the terror attacks were either killed or died by suicide.
A Belgian minister apparently tweeted "we got him" after the capture, but the tweet has since been deleted.
Abdeslam was injured and captured during a raid by police officials in Molenbeek in Brussels on Friday.
G/O Media may get a commission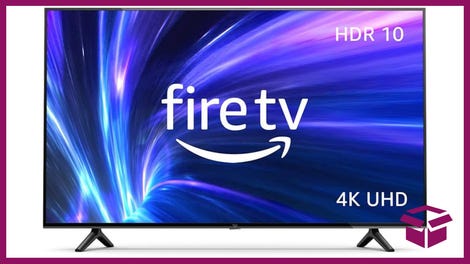 42% Off
Amazon Fire TV 50" 4K Smart TV
The capture of Abdeslam was somewhat unexpected. Officials were surprised to find his fingerprints in a raid on a Brussels home Tuesday, where two suspects reportedly escaped. The New York Times has more:

The raid on Tuesday was not an attempt to capture Mr. Abdeslam. The authorities had targeted the home, on the Rue du Dries in the Forest section of Brussels, as part of an effort to collect additional intelligence. Over the past four months, the French and Belgian police have raided dozens of buildings, scooped up troves of documents and questioned scores of suspects as part of their investigation.
According to The Wall Street Journal, Tuesday's raid ended with one man killed and four police officers injured:

Belgian prosecutors identified the dead man, who was shot by a sniper, as Mohamed Belkaid, a 35-year-old Algerian. But on Friday the prosecutor said it now believed he was the same man who used a false identification card with the name Samir Bouzid, wanted since December for his alleged connection to Mr. Abdeslam. The two were stopped with Mr. Abdeslam in a car traveling between Hungary and Austria in September, prosecutors said.
Authorities believe Abdeslam drove terrorists to the Bataclan theater and may have abandoned a plan to kill himself with an explosive-laden vest. The Bataclan, where 89 people were killed, became the bloodiest site of the November attacks. Abdeslam had frustrated authorities for months, escaping capture in both France and Belgium.
Update
In a joint press conference with French President Francois Hollande, Belgian Prime Minister Charles Michel said three suspects were detained in the raid, including Abdeslam. Hollande added that more people were involved in the attacks than officials initially believed, and that we should expect more arrests in the future.
Danielle Wiener-Bronner is a news reporter.