Southern Baptist megachurch pastor and Donald Trump "adviser" Robert Jeffress— the guy who delivered a prayer at the recent opening of the U.S. Embassy in Jerusalem—took to his second-favorite pulpit—Fox News—to explain how evangelicals could justify their continued support of a serially lying and adulterous president.
The short answer: Ronald Reagan cheated, too.

Jeffress was interviewed on Friday night by Fox News' Ed Henry, who wanted to know if "actual voters, particularly the president's evangelical base," would "even care" about the latest revelations that Michael Cohen had secretly recorded a pre-election conversation with Trump in which hush money payments were discussed over Trump's alleged affair with former Playboy model Karen McDougal.

In case you've been living under a rock, McDougal is at least the second woman who works in adult entertainment that Trump has been accused of trying to pay off to hide affairs he had right after his third wife, Melania Trump, gave birth to the couple's son Barron.

Jeffress' comments also come at the same time a BBC documentary recently hit the airwaves accusing Trump of sexually harassing teenage models at sex and cocaine parties he allegedly hosted in the 1980s and '90s.

G/O Media may get a commission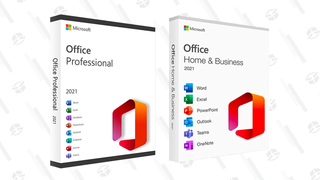 89% off
Microsoft Office Professional 2021 Lifetime License
Henry asked the Dallas-based pastor to respond to another minister who had accused Republican lawmakers of selling their souls by supporting Trump.

"Well, look, nobody has sold his soul to support President Trump," Jeffress crowed. "You know, this is not an unusual thing—we've been here before. Back in 1980, evangelicals chose to support a twice-married Hollywood actor who was a known womanizer in Hollywood. His name was Ronald Reagan. They chose to support him over Jimmy Carter, a born-again Baptist Sunday school teacher who had been married faithfully to one woman."

Go on…

"The reason we supported President Trump, uh, President, uh, Reagan, was not because we supported womanizing or divorce, we supported his policies," Jeffress added.

"Ah," Henry replied.
Ah, indeed.

Watch: