Wheel of Fortune Host and professional hairdo mannequin Pat Sajak rocked the Internet yesterday with a single tweet:
I now believe global warming alarmists are unpatriotic racists knowingly misleading for their own ends. Good night.— Pat Sajak (@patsajak) May 20, 2014
And—whoops! Maybe America isn't prepared to appreciate irony from the host of television's top-rated game show and shortest crossword puzzle.
Naturally, he poured some fuel on this wildfire.

Sometimes it's fun to poke a stick in a hornets' nest just to hear the buzzing.— Pat Sajak (@patsajak) May 20, 2014
G/O Media may get a commission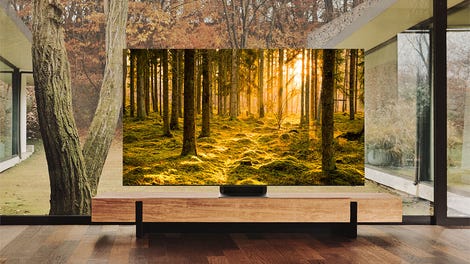 Up to 40% off
Samsung Smart TVs
Speaking in clues for a living appears to have gotten to Pat's enormous head. Let's chalk this up to an editorial oversight. It was, after all, only a tweet.
Release us from this charade. We are ready to solve.

As most of you know, original Tweet was intended to parody the name-calling directed at climate skeptics. Hyperbole.— Pat Sajak (@patsajak) May 21, 2014
Finally, the world is a better place. Good night, and stay tuned for Jeopardy!.
Andy is a graphics editor and cartoonist at Fusion.