Less than a month after being found guilty of eight felonies, former Trump campaign chairman Paul Manafort has decided that one trial is enough, and entered a guilty plea with the office of Special Counsel Robert Mueller in a Washington, D.C. courtroom on Friday. The deal is reportedly predicated on Manafort's cooperation with Mueller's probe into Russian interference in the 2016 election and whether the Trump campaign colluded with foreign agents, in addition to obstruction of justice by President Trump.

Manafort faced seven charges, but ultimately pleaded guilty to just two charges: conspiracy to obstruct justice and conspiracy against the United States. According to Politico, the deal sets a limit on how much time Manafort will serve in prison at 10 years. As part of the plea agreement, the site reports, the 10 remaining federal charges from last month's trial will be dismissed and Manafort will be required to forfeit four properties he owns.
Although it's still unclear exactly how he will be cooperating with Mueller's team, the news of Manafort's cooperation will likely come as a shock to President Donald Trump, who spoke glowingly of Manafort last month after his conviction.
G/O Media may get a commission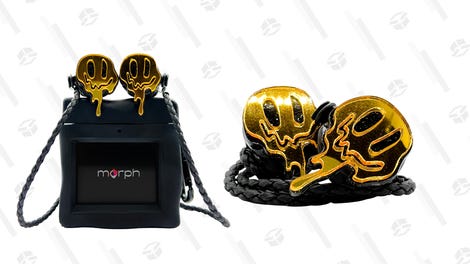 morph audio
Morph Earphones

But Manafort isn't the first confidante of the president to cooperate with investigators. Last month, on the same day that Manafort was found guilty, former Trump fixer Michael Cohen entered into a plea deal with the U.S. Attorney for the Southern District of New York.
Update: 12:29 PM ET: Things seem to be going well in Trumpland:
Update: 1:04 PM ET: Manafort's lawyer, Kevin Downing, briefly spoke to reporters outside of the courthouse.
Update, 2:53 PM ET: The Special Counsel's office has released Manafort's plea agreement and a filing detailing the crimes he's admitting to. You can read both below.
This is a developing story. This post will be updated as more information becomes available.