PBS NewsHour bills itself as "one of the most trusted news programs on television" and a haven for "solid, reliable reporting." That's why it's strange that, on its Thursday edition, it hosted an anti-immigration extremist from a known hate group and presented him as merely an advocate for stricter immigration laws.
NewsHour correspondent Lisa Desjardins hosted guest Art Arthur in a segment that explored how family-based immigration has become such a sticking point for the Trump administration. Arthur is a fellow from the Center for Immigration Studies (CIS), which Desjardins described as "a group that advocates for stricter immigration laws."
But a simple Google search for "Center for Immigration Studies" shows that the organization is actually a known hate group. The Southern Poverty Law Center has designated CIS as a hate group that "has a decades-long history of circulating racist writers, while also associating with white nationalists."
NewsHour was by no means reliable when it presented Arthur as an intellectual with mainstream ideas about stricter immigration laws when he actually represents an institution that touts racist and xenophobic views.
For instance, there was no mention of the fact that CIS regularly publishes essays from a "public policy analyst" named Jason Richwine. In a 2013 study, Richwine declared, "No one knows whether Hispanics will ever reach IQ parity with whites, but the prediction that new Hispanic immigrants will have low-IQ children and grandchildren is difficult to argue against." There was also no mention of John Tanton the founder of CIS, who espoused openly racist and white nationalist views. And that's just for starters.
Before joining CIS, Arthur served for eight years as an immigration judge at the York Immigration Court in York, Pennsylvania, according to NewsHour. Court records show Arthur decided on 165 asylum cases while he was a judge. Of these 165 asylum cases, he granted protections to just 15 applicants between 2006 and 2011, according to a review by The Transactional Records Access Clearinghouse. That's a 90.9% denial rate; the average immigration judge denial rate during that same period was 53%.

G/O Media may get a commission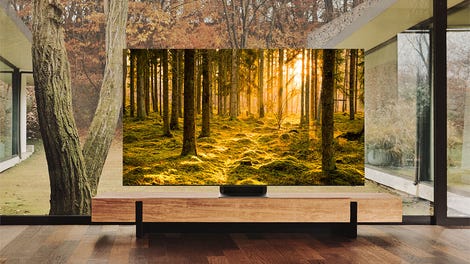 Up to 40% off
Samsung Smart TVs
In the segment, Arthur pushed for sharp limits on immigration in general and told NewsHour's millions of viewers that the term "chain migration" was a neutral, mainstream one. (This is not true.) The other guest on the segment, John C. Yang, of the immigrant rights group Asian Americans Advancing Justice, said the term "chain migration" was offensive and dehumanizing. At the end of the segment, Desjardins said it had been a "very important debate."

I have reached out to NewsHour for comment and will update if I hear back.

(Thanks to a friend of Splinter who tipped us off to this story. We like tips. Send us tips.)