Penn State University at University Park announced plans Tuesday night to suspend the school's Kappa Delta Rho (KDR) fraternity chapter for three years after private Facebook pages run by frat members containing photos of naked, passed-out women were discovered. The Pittsburgh Post-Gazette reports that Tuesday's decision overturns a ruling made by the student-run Interfraternity Council (IFC) to allow the chapter to stay open.
The university's IFC first started investigating the private Facebook pages in March, the school's paper, the Daily Collegian, reports. At the time, the national Kappa Delta Rho headquarters suspended the fraternity for one year over the pages. WJAC obtained the police warrant that prompted the suspension:

[The warrant] says several members of this fraternity are accused of taking pictures of women, mostly nude while sleeping or passed out, and sharing those photos online. State College police said a tip came in informing them of two private Facebook pages created and run by members of the Kappa Delta Rho fraternity…. Police said this is where members allegedly shared photos of drug sales, hazing and photos of unsuspecting victims – mostly women – partially naked.
The IFC investigated further and outlined their findings: In a letter to chapter president Tom Friel, IFC VPs for Standards Michael Stavrakos and Grant Vasi, both students, said they found members of the frat to have "violated a number of policies related to a recognized student organization and a national social Greek-Letter organization."
G/O Media may get a commission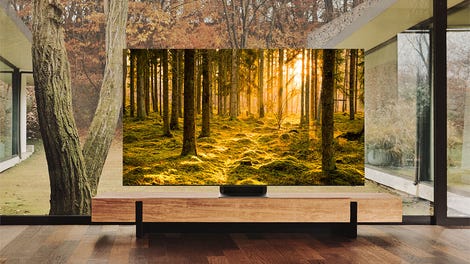 Up to 40% off
Samsung Smart TVs
Those violations include being "aware of the existence and use of two private Facebook pages where highly inappropriate photographs and messages were posted." The IFC review also found that some frat members were allegedly aware of drug use by occupants of the house, hazing, and "the expectation that the new members publish, on a regular basis, a document titled 'Stall Stories' where active members and, in some instances, unaffiliated students were harassed and degraded in flyers left in public view through the chapter house."
This behavior, in Stavrakos' and Vasi's estimation, earned the chapter a punishment that amounts to a slap on the wrist. The chapter was ordered to run a membership review, compel every member of the frat to participate in a sexual harassment seminar and bystander intervention training, increase oversight, and was prohibited from recruiting new members during the 2015 semester, among other measures. That letter was sent on May 13.
On Tuesday, Stavrakos and Vasi received a note from Damon Sims, Vice President for Student Affairs, that reversed their decision. He wrote:

Based on my review of those same factors and others, I have drawn a conclusion that differs from your recommendation. Accordingly, I have recommended to [Penn State] President Barron that we withdraw recognition from Kappa Delta Rho for at three year period commencing immediately, and he concurs.
Sims noted that two female students, in particular, were repeatedly "degraded through multiple postings to the organization's private site over an extended period."
A criminal investigation remains ongoing.
Danielle Wiener-Bronner is a news reporter.