Today is the New York Democratic primary for state government offices, including the contentious primaries for governor and attorney general, and in what's becoming a familiar theme in one of the largest states in the country, it appears that Democratic primary voters are having a hell of a time voting.

New York City Mayor Bill de Blasio said his son Dante attempted to cast a ballot today, but wasn't on the rolls, and had to fill out an affidavit ballot instead.
Dante de Blasio was far from the only one who reported having serious trouble at the polls.
New York writer Rebecca Traister tweeted that she arrived to her polling place only to be informed she wasn't on the voter rolls:
G/O Media may get a commission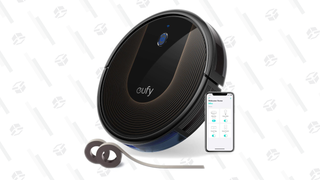 48% Off
Eufy BoostIQ RoboVac
Michael Ballaban, deputy editor for our sister site Jalopnik, received a confusing explanation for why he couldn't cast a ballot:
Still others, including HuffPost editor in chief Lydia Polgreen, also shared stories of being unable to vote cast a regular ballot:
The issues haven't been limited to New York City. The New York affiliate of the nonpartisan voting rights group Common Cause said on Twitter that it was "fielding calls from angry upstaters" who faced convoluted voting hours of 12 to 9 p.m.:
The organization also emphasized that voters who are told they aren't on the rolls should cast affidavit ballots:
In 2016, New York's electoral process came under fire after the unexpectedly close presidential primary left many would-be Democratic voters to realize they were unable to vote because the deadline for registered voters to change their party affiliation passed in October 2015. The primary day itself brought even more problems, when it was discovered that over 100,000 people had been removed from the rolls.
Last October, the New York City Board of Elections settled a federal lawsuit which alleged that it had improperly removed 117,000 voters from its rolls, including Asian American and Latinx voters. Part of the settlement, NBC News noted at the time, mandated that the BOE "review every voter registration removed from its lists beginning July 1, 2013, identify those improperly purged, and reinstate their registrations."
Splinter has reached out to both the New York and New York City Boards of Elections for comment and will update if and when we receive a response.
Update, 9:27 PM ET: In an email to Splinter, New York State Board of Elections spokesman John Conklin said "if there is something large going on, we won't know until after the affidavit ballots are counted."
When asked about the reported problem of registered Democrats not being able to vote at their regular precinct, however, Conklin said he hadn't "heard that so much." He continued: "But because it is a primary the local boards have consolidated some poll sites, so people may not be at their traditional poll site for the primary. They have to pay attention to that."
"But if voters think their party enrollment was changed without their knowledge or consent they can request all the documents associated with their registration record from their local board of elections," he added. "It will show why they are in their current party."