Welcome to WHAT NOW, a morning round-up of the news/fresh horrors that await you today.

After Donald Trump took office, quite a few Twitter users realized that they had been blocked by the man who was now the president of the United States, a unique distinction indeed.
Seven users blocked by @RealDonaldTrump filed a lawsuit suing Trump and two other White House aides last month, arguing that because the president's tweets from his personal account are akin to official presidential statements—something his spokespeople have acknowledged—their First Amendment rights are compromised by not being able to see them.
And in a pre-trial letter sent to the Federal District Court for the Southern District of New York on Tuesday, the plantiffs asked the court to order the president to unblock them during the legal proceedings.
"Defendant's action impede plaintiffs from viewing the president's statements on Twitter, from responding to them, and from discussing and debating them with others who subscribe to @realdonaldtrump," the users wrote in the letter, posted online by Columbia University's Knight First Amendment Institute, which is also backing the plantiffs in the case. "Without preliminary relief, Plaintiffs will continue to suffer irreparable injury to their First Amendment rights during the pendency of this litigation."
G/O Media may get a commission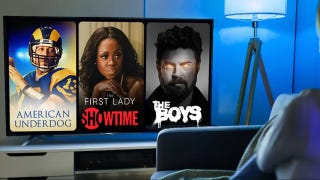 UNDER $1
99¢ Prime Video Channels
One of the users, Rebecca Buckwalter, said she was blocked for tweeting only the mildest of criticism, responding to a Trump tweet: "Sorry folks, but if I would have relied on the Fake News of CNN, NBC, ABC, CBS washpost or nytimes, I would have had ZERO chance winning WH."
It's clearly time for the people to rise up with a Spartacus-meets-pig-poop-balls-style mass action on Twitter.
WHAT ELSE?
A majority of Americans support Trump's plan, announced last week with Sen. Tom Cotton and Sen. David Perdue, to establish a points-based system for evaluating immigrants entering the country through legal channels that would emphasizes skills like being able to speak English.

Newly-initiated Chief of Staff John Kelly is supposedly acting as a "neutral mediator" and a "rare apolitical force" in a sorely divided West Wing. Because nothing says "apolitical" like working for Donald Trump.