PHILADELPHIA—A strike that has brought Philadelphia's public transit system to a standstill ended Monday, resolving worries by local officials that it could depress turnout in this key Democratic stronghold on Election Day.
The regional transit agency, SEPTA, announced that it had come to a tentative agreement on a new five-year contract with TWU Local 234, the union that has been on strike for the last six days over issues with pensions and irregular work times.
The contract announced early Monday morning still has to be approved by union members, but the strike is being called off immediately. The transit agency's 4,700 employees are expected to be back on the job today, with full service of the city's trains, buses, and trollies restored by Tuesday morning.
"We believe this agreement is fair to our employees, and to the fare-paying customers and taxpayers who fund SEPTA," Pat Deon, the chairman of the agency, said at a press conference. "It provides for wage increases, pension improvements, and maintains health care coverage levels while addressing rising costs."
If the strike had continued through Election Day, it could have made it harder for thousands of Philadelphians to make it to the polls, and would likely have disproportionately affected African-American voters. Hillary Clinton is depending on winning big margins in Philly in order to head off Donald Trump's strength in whiter, working class communities in rural Pennsylvania.
G/O Media may get a commission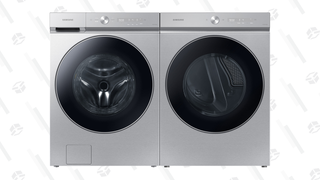 Get $500 back in credit
Last Chance: Samsung Bespoke AI Washer and Dryer Preorder
Clinton's campaign is making a big focus on Philadelphia in the last days of the race. She held a rally with Katy Perry, Cory Booker, and Shonda Rhimes on Saturday evening, attended a North Philadelphia church on Sunday morning, and will be back for a huge rally with President Obama, Michelle Obama, Bruce Springsteen, and Bill and Chelsea Clinton at Independence Hall tonight.
Part of the reason for the campaign's late play here is that Pennsylvania has no in-person early voting, unlike several other swing states. That makes it crucial to get people to the polls on Election Day.
While Philadelphia is a relatively dense and walkable city, and most people live near their polling place, Democrats worried that longer commutes would give people less time to vote. "The problem is that it might take three hours to get to work when it usually takes 20 minutes," Carol Jenkins, a Democratic ward leader in West Philadelphia, told me.
People are less likely to vote when it is inconvenient to do so, University of Pennsylvania professor Dan Hopkins wrote in FiveThirtyEight yesterday, and he noted that poor and black Philadelphians are more likely to rely on transit to get to work.
Already, a California Super PAC supporting Hillary Clinton has paid for free Uber and Lyft rides for Pennsylvanians going to their polling places on Election Day, in part because of the strike. And Democratic activists here have planned robust programs to give people rides to the polls.
Commuters on Sunday said the strike had been a big inconvenience for the last week, and some worried about the effect on the election. "It's probably the worst time to do that strike," said Earl Custis, 45, as he walked by a shuttered station near downtown. "I don't know why they waited till now."
Al Kelman, 73, agreed that the strike was "a pain in the butt." But he said he respected the union's right to strike and doubted that it would have much impact on the election.
"Most people walk to the polls anyway," he said. "My polling place is one block from my house."
Casey Tolan is a National News Reporter for Fusion based in New York City.