The Philadelphia mayor's office may be leading the way when it comes to cities making the transgender community feel included. Next week, Philadelphia's city hall plans will raise the transgender flag right next to the U.S. flag, according to the city's director of LGBT affairs.
"Far too often the 'T' is left behind or out of sight when we talk about LGBT issues, and it's important to visibly make a commitment to the work that we know needs to be done," Nellie Fitzpatrick told Philadelphia Gay News. "I can't think of anything more visible than putting the trans flag right next to the American flag at City Hall."
The transgender flag will be flown alongside the U.S. flag for two days beginning with a ceremony on June 4th that coincides with a transgender health conference being hosted in the city.
The trans flag was designed by trans Navy veteran Monica Helms in 1999. The pastel pink and blue stripes lining the flag represent the traditional colors for baby boys and baby girls, while the white stripe in the middle represents "those who are intersex, transitioning, or consider themselves having a neutral or undefined gender," Helms told Think Progress.
The trans flag will be flown at city hall less than a month after a young Philadelphia trans woman was murdered.
G/O Media may get a commission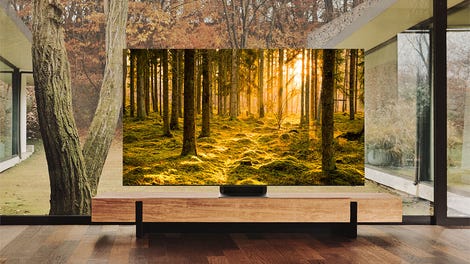 Up to 40% off
Samsung Smart TVs
London Chanel, 21, is at least the eighth trans person of color to be killed in the U.S. this year.
There were 14 trans women of color murdered in the U.S. last year—12 of them were women of color, according to the Nation Coalition of Anti-Violence Programs, a group that's working to end violence against LGBT people.
"We have far too many times where the trans community is mourning, from Trans Day of Remembrance to every time we lose somebody," Fitzpatrick said. "But instead we should take a moment and revel in the empowerment of where the community is going because that's incredibly important to celebrate."
Fitzpatrick said she hopes the flag-raising ceremony becomes an annual event.