Five LGBT immigration activists with chains wrapped about their bodies shut down a downtown Santa Ana, California, intersection for over an hour Thursday morning.
The demonstrators said they were demanding the Obama administration end the detention of transgender immigrants, women, children, and other vulnerable populations. Organizers said deporting LGBT immigrants back to the often homophobic and transphobic countries they fled often results in death.
The protest organizers also said they're concerned because gay and transgender immigrants are more likely to face physical and sexual abuse while in detention.
G/O Media may get a commission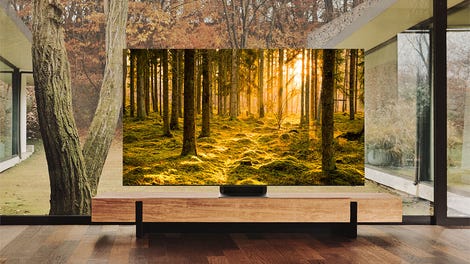 Up to 40% off
Samsung Smart TVs
"I'm here today to make a statement, we need to stop the deportation of our trans brothers and sisters," said Paolo Jara-Riveros, as he carried what looked like 10 pounds of chains. He was at the center of the web on chains with four other activists locked to him.
Jara-Riveros said he spent 28 days in detention and is currently going through asylum proceedings.
"If ICE can't protect LGBT people then ICE should release vulnerable populations," said Jorge Gutierrez, the founder of the LGBT immigrant rights group Familia: Trans Queer Liberation Movement.
Gutierrez said his organization chose to protest in Santa Ana because it's home to the nation's only immigration detention facility that houses gay, bisexual and transgender immigrants.
"This is the epicenter of an immigration detention system that does not treat gay and transgender inmates with dignity," said Gutierrez.
Gutierrez said his organization has received calls and letters from gay and transgender inmates who have faced physical and sexual abuse inside immigration detention.
Earlier this month presidential hopeful Hillary Clinton signaled she would review the policies that incarcerate transgender immigrants, many of them asylum seekers who turn themselves in at a U.S. point of entry.
"I do not think we should put children and vulnerable people into detention facilities because I think they are at risk. Their physical and mental health are at risk," Clinton said.
A 2014 Fusion investigation found ICE detains an average of 75 transgender detainees each night. A significant portion are women who have requested asylum.
Even though transgender immigrants make up just one out of every 500 detainees, they account for one out of every five confirmed sexual abuse cases in ICE detention, Fusion's investigation found.
A U.S. Immigration and Customs Enforcement (ICE) spokesperson told Fusion the agency "has a strict zero tolerance policy for any kind of abusive or inappropriate behavior in its facilities and takes any allegations of such mistreatment very seriously."
"ICE is committed to upholding an immigration detention system that prioritizes the health, safety, and welfare of all of those in our care in custody, including lesbian, gay, bi-sexual, and transgender individuals," read the statement sent to Fusion.
The statement also noted ICE has established a working group specifically to examine the agency's current practices affecting the LGBT detainee population and make recommendations about possible changes.