Every Oct. 28, thousands of followers of St. Jude, the patron saint of lost causes, descend on Mexico City to celebrate his day of honor at Saint Hipólito's Church.
These pilgrims make the journey — on foot or aboard public transportation — carrying life-size statues of St. Jude to seek the saint's blessing and forgiveness for their sins.
St. Jude is often associated with hope and resistance, themes that resonate with Mexican youth. Many of his followers are in their teens or twenties. Similar to Santa Muerte, another religious icon that is considered a champion of the poor and marginalized, St. Jude's popularity has soared in recent years.
This young man walked for four hours before his workday started to have his stature blessed by a priest.
G/O Media may get a commission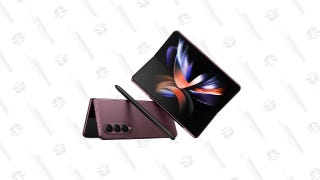 Save Up to $300
Galaxy Z Fold4
Some find colorful ways to show their devotion, like this girl who had a temporary tattoo with an image of St. Jude and the words "Cuidame, plis" or "Please take care of me." It's inspired by a popular brand that sells an array of products with similar designs depicting the Virgin of Guadalupe.
There is a celebratory, party-like feel to the day; young pilgrims play Mexican banda music, laugh, joke and hang out with friends. Some get high by sniffing glue, or mona.
There are also those who come with more somber matters on their minds. Nieves Rosa Delgadillo says one of her sons was murdered four years ago, and the police never found the killer. Since then, Nieves has come to Hipólito every year to ask St. Jude to protect her other children.
Many pilgrims pray to Judas when they are low on money or seeking work. This pilgrim is holding a statue of St. Jude covered with American dollars. He said he asked the saint to bring him work and health.
For others, the influx of people into the central city is a chance to help make ends meet. Vendors line the streets selling food and religious trinkets. Ricardo, a young man from the outskirts of Mexico City, sold plastic St Jude dolls.
Children are introduced to St. Jude from a very early age.
The end point of the journey is St. Hipólito's church in the Roma neighborhood, where mass is said throughout the day.
A pilgrim holds the stamp St. Jude during the celebration of the mass in the Church of St. Hipólito.