Two officials at a California flight school have been arrested for allegedly kidnapping a Chinese student at that school and threatening to forcibly deport him.

According to the Redding (CA) Record-Searchlight, police arrested both IASCO Flight Training general manager 48-year old Jonathan McConkey and his assistant Kelsi Hoser for kidnapping a Chinese student at the school, Tianshu Shi:
According to police, McConkey and Hoser, 50, went to the alleged victim's residence Thursday night to tell him they were sending him back to China. The pair returned to the residence Friday morning and when the victim refused to leave, McConkey battered him and threatened physical violence if he did not go with them, police said.
The Record-Searchlight also released audio of McConkey and Hoser screaming at the student.

"Your ass is getting on a plane right now or I'll break your fucking arm," a man identified as McConkey says in the recording. "You better believe I'm fucking threatening you. And the United States government needs you out of this country right now, you understand?"
G/O Media may get a commission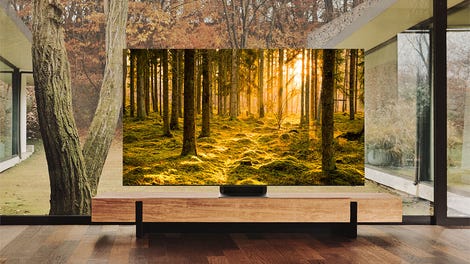 Up to 40% off
Samsung Smart TVs
"I got your fucking passport, you're leaving now," he added. "Immigration will fucking take you to jail. Get your shit together. You have five minutes."
Shi, who told the Record-Searchlight that he had been here for seven months, somehow managed to call his brother in China, who alerted police. McConkey and Hoser were eventually arrested at the Redding Municipal Airport, where IASCO trains its students.

Later, the Record-Searchlight said another student had come forward to allege that McConkey and Hoser had come to his house and threatened him with deportation:

[Zhang Xun] Yi said he, too, had received a visit from the flight school director and assistant. McConkey and Hoser came to his house Thursday night around 11:40 p.m., he said.

Yi said he woke up to someone yelling his name from downstairs, and then McConkey came into his room and told him to get dressed. He said he was told in front of his six roommates that he was being sent home to China and had to be ready at 6 a.m. He said his roommates were told to stay awake and watch him.

"I was really scared at that time," he said. "I don't want to leave, I just do what they say."
Making matters worse is that the school apparently confiscated their passports. "All of us don't have a passport," Yi told the Record-Searchlight. "I asked for it a couple of times. They didn't give it to us."
"He's very rude, used too much dirty words. I can't describe," Shi told the Record-Searchlight. "My inside is bad because I never had this experience before."

"It's ridiculous, they can't treat us like this," one of his roommates added in an interview with the Record-Searchlight. "They treated [Shi] like an animal, not a human being."