She can't interview worth a damn. She performs the common traits associated with morning television—levity, banter, dancing, and basic familiarity with the ways of human beings—with the level of grace as a dentist snatching your wisdom teeth out with pliers. And yet, not only does Megyn Kelly reportedly want to became the new lead anchor of the Today show after Lauer was ousted following sexual misconduct claims, she even has a few suckers out there cheering her on.
According to Page Six, multiple sources claim Kelly is "now gunning for Matt Lauer's job with the top Today host out." In that same report, it is noted that an "insider" says that Kelly does not want to replace Lauer. Mmhmm. Given the stature of the Today franchise and Kelly's longtime campaign to successfully disassociate herself from her time as a racist folklore spewer on Fox News, securing Lauer's seat would cement Kelly as the journalist she wants to be. It's hard to believe the thought hasn't crossed her mind.
It's certainly on the minds of her cheerleaders, who are rallying for her to replace Lauer. Forbes contributor Mark Joyella, a writer and former news anchor that has worked at TV stations in New York and Florida, argues why Kelly is the ideal candidate to help lead the morning news behemoth into its new chapter. "As the news of Lauer's termination rocked the Today family Wednesday, it was Kelly who brought authority and a unique kind of expertise to the story when she focused on the victim whose report to NBC executives was chilling enough to immediately dismiss Lauer," Joyella writes. He heralds Kelly as making "news out of newsmaker interviews" and "an authoritative voice to address the mess that Matt Lauer left behind."
Mr. Joyella, who is your dealer and what is the strain? Just kidding, sir. But he really, really seems to believes these words, bless his heart. A few other news outlets may be less passionate in their advocacy, but have listed her as a viable option all the same. This includes Entertainment Weekly, Variety, the New York Post, and various local newspapers across the country. You would think Kelly was actually doing well based on such endorsements.

G/O Media may get a commission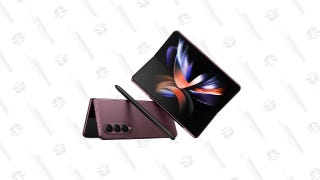 Save Up to $300
Galaxy Z Fold4
Much of the news surrounding Megyn Kelly the "newsmaker" focuses on how bad her show is going. In late November, it was reported that Megyn Kelly Today delivered NBC its lowest sweeps ratings since 2000. Before the launch of this show, her news magazine series was widely panned for her decision to feature serial bullshitter and perpetual conspiratorial moron Alex Jones, and then not taking him to task during the controversial interview.
If there has been any compliment paid to Kelly's daytime show, it has been her handling of the wave of men in high positions in various industries finally being held accountable for their predatory behavior. Kelly has extended an invitation to Lauer and his accusers to appear on her show and "tell all," which bring a level of transparency often unseen.
Kelly is undoubtedly at her best when speaking on these issues. Still, it shouldn't obscure the fact that Kelly remains quite selective about the sort of women she advocates for. I will never forget when she played the image of a young black girl being tackled by an adult police man and said she was "no saint." 
Or that she once accused former First Lady Michelle Obama of playing to a "culture of victimization." Or that she once accused Supreme Court Judge Sonia Sotomayor, then a nominee, of "reverse racism" after citing remarks made in a past speech and claimed that it was "like she's saying that Latina judges are obviously better than white male judges."

No one should forget that Kelly spent several years gleefully stoking the prejudices of geriatric bigots. Kelly has never acknowledged let alone apologize for any of this, so it's why many of us will not let it go. Why should we when there's little evidence to suggest Kelly has changed much since then?

In September, Kelly was profiled in the Elle piece "Megyn Kelly Doesn't Want To Be Political." Not only did she accuse the reporter, Mattie Kahn, of misquoting Trump's comments about Charlottesville (Khan in fact got it right), Kelly also purposely evaded questions about Trump's attacks on ESPN's Jemele Hill after she described the president as a white supremacist. Instead, Kelly offered broad thoughts on journalists: "If they choose to offer a political opinion, then they should expect rollback. If they haven't expressed a political position, there should not be pressure on them to do that. That is not the job they signed up for."
Kelly has long been sold as a serious, earnest journalist, even when she was at Fox News, who also uses her platform to rail against powerful men behaving badly. Yet she can't comment on the President of the United States who once boasted of grabbing women by their pussies attacking a journalist with members of his administration calling on her firing from a White House podium?
For several years, Kelly has been able to get away with her racist streaks at Fox News and ascend for reasons that boggle the mind (kidding, she's white and blonde). Today fans have suffered enough with her show, an awkward replacement of a previous hour of seamless programming co-hosted by Tamron Hall and Al Roker. Why make it worse on the viewers?

I understand why many are calling on Lauer to be replaced by another woman. For so long men have steered these sorts of shows, and it's about time men take a step back as we embark on a widespread sexual misconduct reckoning. However, Megyn Kelly is not the right woman. Let her keep sinking in the slot she's presently soiling and find another woman to replace that predatory dick.
My vote is for Tamron Hall, the woman Megyn Kelly should have never replaced to begin with. Unlike Hall, Kelly doesn't have the range, doesn't advocate for all women, and should go back to the racists-pandering side of the biz from whence she came.