"Welcome to a very Larry Christmas, starring my wife Shawn, my sons Chance and Cannon." This is how Larry King begins his 2012 Christmas special, which lasts 21 minutes.

Larry King is married with many children. Before marrying his current wife, Shawn, Larry King was married to seven other wives. His first marriage took place in 1952, the same year the United States tested its first hydrogen bomb. It lasted one year.
"A Very Larry Christmas" opens with Larry, Shawn, and their sons sitting on chairs in front of a Christmas tree and unlit fireplace. "First of all, what are you getting me for Christmas?" Larry asks his wife. There is a pause. Larry threatens to tell his sons what he got them for Christmas. "Let's tell them," Larry says. "I just want to be surprised," the younger one says.
Larry changes topics. He is wearing a purple shirt. Larry King turns to his sons and tells a story about growing up Jewish and having a Christian woman live in his home. "My father had died; I was nine," he tells his sons. One day he told the Christian woman who lived in his home that he did not believe in Santa Claus. "You stay up... and you'll see if there's a Santa Claus," the Christian woman told Larry King.
G/O Media may get a commission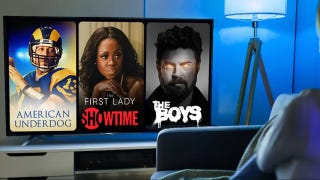 UNDER $1
99¢ Prime Video Channels
"We were lookin' and lookin'—and down the chimney came Santa Claus," King tells his sons. He recalls how Santa Claus threw presents down his chimney. "Lincoln Logs." He was covered in soot. Pfffft is the sound Larry King makes with his mouth while describing the soot that was everywhere. Santa Claus came down his chimney, was in his living room.

"It was her nephew, George," he tells his sons. "Anyway," he says.
Larry King wants to know the best gift his sons have ever received. For Larry's younger son, the best gift is a hockey table. For Larry's older son? "Lincoln logs," he says. This is a call back. Larry laughs: "That is pretty funny." He asks the question again. The older son is unrelenting: "Lincoln logs."
Now it's time for New Year's resolutions. King's younger son resolves to not get so angry at his mother when she is late. "I need makeup to go skiing," Shawn King says. "You will be editing this part out," she says, but this part is not edited out.
Larry's resolution is "to live," he says. "All of you, when you reach a certain age, that will be your New Year's resolution: to have another New Year," he explains in front of his young sons.
Now an abrupt cut to Ryan Seacrest, whose favorite gift was an Atari video game system. Now back to the living room with Larry. Soon, Shawn King will sing a song from her 2003 Christmas album, "Gotta Love the Holidays." The song is called "Gotta Love the Holidays."
Billy Bush is here. His daughter wants a Touch n' Brush. "You touch your toothbrush to it and toothpaste comes out," he says. "She saw it on one of the shows." It is 2012, seven years after Donald Trump bragged to him that he could grab women by the pussy, but four years before he will become president of the United States. At Larry King's house in 2012, Billy Bush has no idea what is coming for him. Next, Pat Boone appears.

Now we are in Larry and Shawn King's kitchen without Pat Boone. Shawn is about to make a Christmas treat. "My five layer, really delicious special dessert," she says. "I'm not gonna cook," Larry King says. He must prepare the nut topping. "Hammer away," Shawn King says of the bag of nuts. "I can pretend these are Nazis," Larry says. He bangs, hard.
Larry's younger son takes a turn. "Me kill," Larry says.