The tension between authorities and activists protesting North Dakota's proposed Dakota Access Pipeline reached a boiling point on Thursday as police advanced on one of the protesters' camps and arrested in a massive show of force.
According to reports from the ground, police announced on Thursday morning that protesters occupying a newly erected camp built on private property would need to vacate the premisses or face arrest. In response, a group of activists surged toward the advancing police phalanx in an effort to block Highway 1806. In a Facebook post, the Morton County Sheriff's Department stated that some protesters had lit tires on fire as a makeshift blockade against the encroaching law enforcement forces.
Speaking with the Huffington Post, Indigenous Environmental Network organizer Dallas Goldtooth claimed that an unspecified number of protesters had been arrested by 2 PM.
G/O Media may get a commission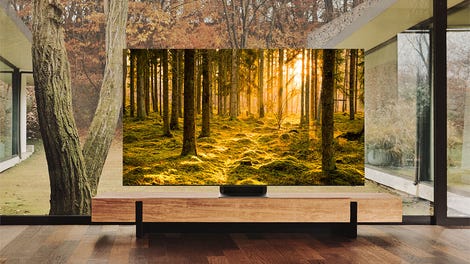 Up to 40% off
Samsung Smart TVs
The clash comes at a site just north of the anti-pipeline activists' main encampment. A release put out by the MCSD claimed that it was an "illegal road block along Highway 1806 and County Road 134."
On Wednesday police demanded protesters abandon the new campsite, but to no avail, setting the stage for Thursday's showdown. According to the sheriff's office, "numerous counties, cities, state agencies and out-of-state law enforcement are supporting Morton County in this mission."
That wide array of state power was evident in the assortment of officers—some clad in riot gear—and vehicles, which included trucks, busses, and military humbles, on hand to evacuate the camp. Additionally, the Seattle Times reported that a helicopter was seen assessing the protesters' blockade from the air. According to "Democracy Now," the Federal Aviation Administration issued a temporary no-fly-zone over the protesters' camp, stopping their ability to use drones to monitor police activity nearby.
Protests in North Dakota over the oil pipeline have been going on for months, spearheaded by native residents of the Standing Rock reservation, which claims the controversial construction threatens their sacred land and water reserves. Proponents of the pipeline contend that it will reduce the oil industry's environmental impact in the area, by lessoning the need to ship crude by rail or road.
The police crackdowns have ratcheted up in recent weeks, with over 120 activists reportedly arrested on Monday alone. Despite the police action on Thursday, protesters seemed steadfast in their mission to disrupt and call attention to the pipeline's construction.
"I'm here to die if I have to," one activist told NBC affiliate KGW. "I don't want to die but I will."
By days' end, more than 140 protesters had been arrested by authorities, who succeeded in clearing the new encampment after approximately six hours. According to the Morton County Sheriff's Department, one protester was arrested after firing on officers with a .38 caliber pistol. Along with pepper spray and bean bag guns, CBS reported that police used an LRAD sonic cannon to blast protesters with high pitch noise.
"Over 300 riot police came. They came with force, and they bulldozed the camp, they bulldozed teepees," a protester told CBS.
Dave Archambault II, Chairman of the Standing Rock Sioux Tribe, released a statement on Thursday's assault, calling it "a disproportionate response from law enforcement to water protectors' nonviolent exercise of their constitutional rights."
Archambault also called for the Justice Department to send observers to the protest site to "ensure the protection of First Amendment rights" and "hold the state of North Dakota and Morton County accountable for their acts of violence against innocent, prayerful people."
"We need our state and federal governments to bring justice and peace to our lands," Archambault implored. "Not the force of armored vehicles."