There's not much going on in the unincorporated area of Ona, West Virginia—its Wikipedia page consists of describing its four major landmarks. But some excitement came to the area recently, the Huntington Herald-Dispatch reports, when police found a man with two white-tailed bucks in his house. For his part, Ronnie Chapman, the accused deer owner, denies keeping it as a pet. Police aren't buying it.
According to ABC in West Virginia, Chapman happened upon a deer in poor health around his property a couple years back. Concerned with the buck's well-being, he claims to have brought the deer inside his home and "nursed him back to health." How nice!
And now, Chapman claims, the deer comes and kicks it at his house every once in a while, walking through the door to "bum a piece of candy" and then heading right out.
The Department of Nature Resources also thinks Chapman's full of it. The Charleston Gazette reports DNR officer Joshua Adessa believed Chapman kept the two deer for "more than a year" and believes Chapman was merely making excuses.
G/O Media may get a commission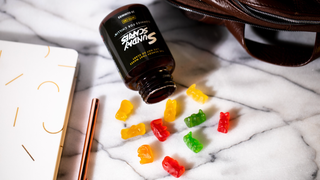 10mg CBD Gummies (22-Count)
DNR told Fusion that Chapman was being charged with two counts of illegal possession of wildlife, which can be found in chapter 20 of the West Virginia constitution. The law reads, in part:

Except for wildlife, lawfully taken, killed or obtained, no person may have in his or her possession any wildlife, or parts thereof, during closed seasons. It is unlawful to possess any wildlife, or parts thereof, which have been illegally taken, killed or obtained. Any wildlife illegally taken, killed or possessed shall be forfeited to the state and shall be counted toward the daily, seasonal, bag, creel and possession limit of the person in possession of, or responsible for, the illegal taking or killing of any wildlife.
Chapman went to court on Tuesday to pay a $300 fine, according to ABC.
Michael Rosen is a reporter for Fusion based out of Oakland.