A group of Bolivian people living with disabilities spent four weeks trekking across the country's highland desert, braving the glaring sun, thin air, and bitter nighttime cold, in hopes of securing a meeting with President Evo Morales.
Instead, what they got was a police beatdown and a lungful of teargas.
G/O Media may get a commission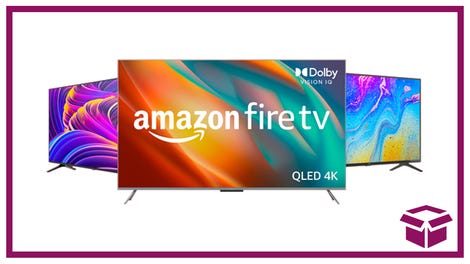 Ooh. stunning.
New Amazon Fire TVs
After crossing Bolivia's rugged terrain in wheelchairs and on crutches, the activists were met with police teargas and truncheons when they tried to approach the presidential palace on Wednesday, according to witnesses.
"They are crucifying us," said David Cayo, one of the leaders of the protest, which drew some 600 people, including amputees, paraplegics and people with mental disabilities.
Police appear to have fired teargas at the group after some of the protesters tried to break through a fence built to stop people from approaching the presidential palace. But the show of repressive force is being decried by critics as entirely disproportionate and cruel.
Opponents of President Morales described the police action as proof that Bolivia's socialist government is becoming increasingly repressive and authoritarian.
The government denied it targeted people with disabilities, despite pictures circulating on social media that show activists in wheelchairs holding handkerchiefs to their noses and passing out in the streets of La Paz.
"In no moment was any citizen with disabilities attacked by members of the police," Bolivia's Vice Minister for the Interior Rodolfo Illanes said on Wednesday evening. But he acknowledged that "police did fire a small amount [of teargas] at some hooded men."

According to the Bolivian government, the protests were "infiltrated" by agitators who were trying to provoke clashes with the police.
Local news images showed protesters destroying police property.
The government's communication minister accused opposition leaders of organizing the march and trying to use it to score political points against President Morales, who recently lost a referendum that would have allowed him to seek a fourth consecutive term in office.
Protest leaders, however, insist they were trying to meet with the president to demand a monthly stipend of 500 bolivianos a month, or around $74 for people with disabilities.
The government has said that amount is financially unfeasible for Bolivia, a poor landlocked nation where the minimum wage is around $240 a month.
Bolivia currently gives people with disabilities a yearly one-time payment of $150—an amount that recipients claim is insufficient to meet basic living costs. The protesters say they plan to remain in La Paz to keep the pressure on the government.
Manuel Rueda is a correspondent for Fusion, covering Mexico and South America. He travels from donkey festivals, to salsa clubs to steamy places with cartel activity.