On Sunday, at around 10 p.m., 16-year-old Robert Dentmond called 911 and told them he planned on killing himself with a firearm. Within the hour, police had shot him to death in a parking lot. Dentmond was holding a toy gun when he was killed.
Dentmond was shot at by nine Gainesville Police officers and Alachua County Sheriff's deputies in a parking lot near his apartment complex in Gainesville, Florida. According to witnesses, the standoff escalated because Dentmond was holding a toy gun that strongly resembled an assault weapon. Officers opened fire when Dentmond, holding the gun against orders, moved toward the residential buildings. The Gainesville Sun describes the brutal scene:

The rounds from the officers and deputies rip into Dentmond, fatally wounding him, but also into buildings in the apartment complex at 5800 SW 20th Ave. One resident would later point out holes in her bedroom wall, just above her bed.
Bystanders told the Sun that when police started shooting at Dentmond, bullets rained down on the Majestic Oaks complex. Resident Shirley Johnson said, "They shot my house up. They put me and my daughter's life in jeopardy in our own home. There is no way it took that many bullets to hit that boy when they had a clear shot." Another, Trenesha McQueen, said bullets came through her apartment."If I would have been up I would have been shot in the back of the head," she said.
Lieutenant Brandon Kutner, speaking on behalf of the Alachua County Sheriff's Office, said his deputies thought the gun was real. "Deputies gave verbal commands to drop the weapon which he initially did," Kutner said, adding "as we tried to establish a rapport with the individual, to try to get him to move away from the weapon, he picked it up, rearmed himself, and started walking toward an occupied apartment complex."
G/O Media may get a commission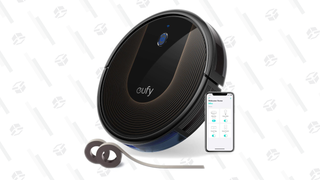 48% Off
Eufy BoostIQ RoboVac
The Gainesville Police Department and the Alachua County Sheriff's Office, as well as the Florida Department of Law Enforcement, are investigating the incident. Each of the officers who fired a gun has been placed on leave.
A GoFundMe page has been set up to raise money for Dentmond's funeral cost, where the teen was described as "feeling deeply troubled." Kevin Apple, who refers to Dentmond as his nephew on Facebook and set up the page, wrote that Dentmond "had given up on the world and felt like it was time for him to let go."
This is not the first time that someone who has shown signs of mental illness was killed by police. The Washington Post reported last year that in the first six months of 2015, one quarter of those who were killed by police suffered from a mental illness. A recent report found that Los Angeles police officers killed 300% more mentally ill suspects in 2015 than in 2014. Time and time again, we've been confronted with graphic footage and troubling stories that demonstrate how ill-equipped American police officers are to handle situations with mentally ill individuals.
Dentmond's friends describe him as a friendly, kind boy who was having a rough time. "He's a great person. He played football. He played basketball," his friend Dylan Burnes told The Gainesville Sun, adding "He was a great person. He was really nice and funny. We just connected." A neighbor, B.J. Harrison, told the Sun that Dentmond was "was a good kid, respectful… he didn't bother anybody." Harrison continued, "I think he was probably going through something."
Danielle Wiener-Bronner is a news reporter.