Welcome to WHAT NOW, a morning round-up of the news/fresh horrors that await you today.

It's been nearly a week since Stephen Paddock opened fire on a crowd of 22,000 concertgoers in Las Vegas, killing 59 and wounding more than 500, and police are still grappling with what could have driven a 64-year-old multimillionaire retiree to carry out the worst mass shooting in modern American history.
One possible clue could lie in a note he left before killing himself in a 32nd floor hotel room at Mandalay Bay on the Vegas Strip. The existence of the note was revealed by Clark County Sheriff Joseph Lombardo in a briefing on Wednesday night.
Paddock had rigged the hotel room and surrounding area with cameras, including one in the room's peephole, and had crafted an elaborate plan to escape the massacre he carried out, the sheriff said. But as authorities closed in, he instead turned the gun on himself.
"He was doing everything possible to see how he could escape at this point," Lombardo told reporters.
G/O Media may get a commission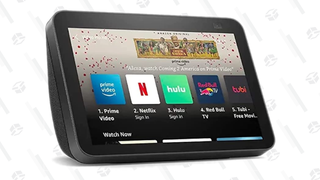 He added that the note was not a suicide note, but did not elaborate further on its content.
But for now, we have more questions than answers. After speaking again with police on Wednesday, Paddock's girlfriend Marilou Danley said in a statement that she had no idea what the man she lived with in a Mesquite, NV, retirement community was planning.
"He never said anything to me or took any action that I was aware of that I understood in any way to be a warning that something horrible like this was going to happen," Danely, who arrived in the U.S. from the Philippines after the shooting, said in a statement read by her attorney. "I knew Stephen Paddock as a kind, caring, quiet man."
WHAT ELSE?
In some of her first public remarks since her high-profile firing from the Trump administration, former Acting Attorney General Sally Yates somewhat tempered the public's expectations that Robert Mueller's Russia probe will mean indictments galore. "I know a lot of people are sort of putting all their hopes into Bob Mueller. And I've got tremendous confidence in Bob Mueller," she said at Vanity Fair's New Establishment Summit. "But the fact of the matter is, he's going to determine whether there's proof beyond a reasonable doubt that felonies were committed, that crimes were committed that can be used for prosecution or impeachment."
A ban on bump stocks, the type of device Paddock used in the Vegas shooting which allows gun users to make semi-automatic weapons mimic the uninterrupted firing power of automatic weapons, could finally be a narrow enough—and politically prudent—gun control measure for Republicans to jump on board with.
Three Special Ops troops were killed in an ambush attack in Niger, where they were patrolling the country's border with Mali against ISIS and a branch of al Qaeda.
For more news and commentary from Splinter, follow us on Facebook.