"People who are most directly impacted should lead their own struggle."
The comment from immigration reform advocate Prerna Lal concisely sums up a policy symposium just wrapping up in Washington.
Millennials Rising, a two-day event convened in a rapidly gentrifying part of the city, was a "by millennials, for millennials" discussion about how young people can promote policies that will lead to a better future.
While the several hundred gathered came from a diverse range of experiences - policy wonks, students, advocates, young parents, young corporate professionals, black, brown, white, male, female, gay, straight, documented, undocumented - there was broad agreement from the millennials in attendance on what pro-millennial policies should look like.
Young people want student loan reform so that their repayment plans are based on their income. They want paid leave so that when they or their kids get sick, they aren't at risk of losing their jobs. They want voting to be less complicated and more flexible. They want flexible childcare because the days of the 9 to 5 job are long gone and they don't always know their schedules in advance. They want tax breaks or incentives for cohabitation, not just marriage, because not all families are traditional.
Agreeing on those policies was the easy part. The symposium devoted much more time to a far more difficult challenge: how to implement them.
G/O Media may get a commission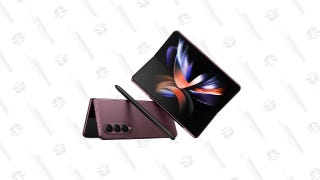 Save Up to $300
Galaxy Z Fold4
Passing policies millennials care about is tricky right now because, as many attendees pointed out, millennials are disconnected from traditional power structures.
And, as Laurenellen McCann of New America said, "In the end, it always comes back to power."
The problem, Taylor Jo Isenberg from the Roosevelt Campus Network pointed out, is, "Young people don't generally feel like they have it."
In other words, the people impacted by policies like student loan reform don't currently have the ability or space to lead their own struggle within traditional structures like Capitol Hill or Wall Street.
But that doesn't mean they can't lead.
After all, DREAMers, who by definition cannot vote, successfully pressured the White House into executive action on deportation relief with Deferred Action for Childhood Arrivals, and videos of students asking lawmakers "Are you going to deport me?" have gone viral.
In typical millennial fashion, optimistic (seriously, studies show millennials are super optimistic) symposium attendees suggested ways young people can make their voices heard.
Go local. NBC News political reporter Perry Bacon, Jr. pointed out that effecting change at the local level is much easier than in the halls of Congress. Many cities are effectively governed by one party, so those in power aren't afraid they'll be voted out for compromising.
Get out from behind the computer. "I want us to offline better," McCann said. President Obama's campaign didn't just win millennials by figuring out how to Tweet, it held house parties to facilitate face-to-face interaction.
Campaign for things even when policy change seems slow to follow. It makes sense, Sabeel Rahman of the Roosevelt Institute said, to have social movements facilitate the restructuring of policy or political reform.
We've already seen it in the private sector. Marketers are all about appealing to millennials and even the next generation. Tech companies excel at it. Companies like Uber flourish as taxi unions struggle to attract young riders. Policymakers are now beginning to realize they also can't ignore millennials.

Emily DeRuy is a Washington, D.C.-based associate editor, covering education, reproductive rights, and inequality. A San Francisco native, she enjoys Giants baseball and misses Philz terribly.