Young Americans played an influential role in the last two presidential elections, but they still are relatively unengaged in politics, according to a new ABC News/Fusion poll.
Only 54 percent of adults ages 18 to 31 report that they are registered to vote, 31 percentage points lower than the next highest age group, Americans ages 32 to 64.
Voter registration peaks among seniors ages 65 and older; 94 percent of whom say they are able to vote.
That result is not necessarily surprising, young people traditionally vote in fewer numbers than older people. But they still proved themselves as a powerful force in the 2008 and 2012 elections, meaning that higher turnout could further boost their political clout.
G/O Media may get a commission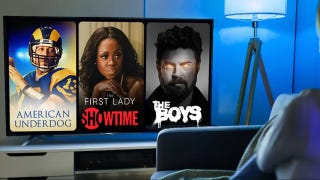 UNDER $1
99¢ Prime Video Channels
Youth voter participation peaked in 2008, with 51 percent of people below the age of 30 casting ballots, according to CIRCLE, a youth research group based at Tufts University. Nearly two-thirds voted for Barack Obama, helping him win the White House. Obama was still able to capture six in ten voters under 30 during his reelection victory in 2012. But youth voting rates fell in 2012 to 45 percent, the lowest it has been since 2000.
Although young voters rallied around Obama in the last two elections, it's a misnomer to call them a bloc.
Overall, six in ten Americans say they cannot trust the government to do what's right. And 68 percent say they do not feel well represented in Congress. On those issues, young people's attitudes are not much different than other groups surveyed.
But they stand apart on some key questions.
Immigration
Along with people ages 40 and younger, they are more likely to believe that undocumented immigrants should be given the chance to live and work legally in the U.S. Overall, 51 percent of adults say they should, but that rate jumps to 61 percent. Of Americans over 40, only 47 percent back legal status.
Religion
Americans ages 18 to 31 are 12 percentage points less likely to believe that politicians should base their policy positions on religious beliefs, fitting with lower levels of religious observance among younger people.
Political Affiliation
There are also tremendous racial differences that underscore the sharp divisions between the Democratic and Republican parties. Among non-Hispanic whites, 42 percent describe themselves as Democrats or leaning toward Democrats and 48 percent identify with Republicans. But among non-whites, 70 percent side with Democrats and only 21 percent identify with Republicans.
On the heels of their second-straight loss in a presidential election, the Republican National Committee published an "autopsy" report in March that urged the party to improve its image among blacks, Latinos, and Asian-Americans, among the fastest-growing groups in the country.
"Public perception of the party is at record lows. Young voters are increasingly rolling their eyes at what the party represents, and many minorities wrongly think that Republicans do not like them or want them in the country," the report reads. "When someone rolls their eyes at us, they are not likely to open their ears to us."
Gender Equality
The gender makeup of Congress is also an important concern for non-whites. Forty-three percent of Americans say it would be a good thing if more women were elected to Congress. That rate increases to 54 percent among non-whites, compared to 38 percent of non-Hispanic whites. Forty-nine percent of women agree.
Racial Equality
Twenty-three percent of Americans say it's important for more non-whites to be elected to Congress. Interestingly, that percentage is not much higher among non-whites (29 percent).
Perhaps in a sign of disillusionment, there's general agreement that a more diverse Congress won't make it easier to solve the budget disputes facing Congress. Two-thirds of Americans say it would make no difference, while only a quarter say it would make it easier.
The ABC/Fusion poll was conducted between Oct. 17-20 in English and Spanish, using landline and cell phone interviews with 1,002 Americans. The margin of error is 3.5 percent.
This report used analysis and graphics by Gary Langer of Langer Research Associates, Inc.
Jordan Fabian is Fusion's politics editor, writing about campaigns, Congress, immigration, and more. When he's not working, you can find him at the ice rink or at home with his wife, Melissa.