The Wall Street Journal reported this morning on the internal deliberation process that led Secretary of State Mike Pompeo to certify to Congress that "the governments of Saudi Arabia and United Arab Emirates are undertaking demonstrable actions to reduce the risk of harm to civilians" in Yemen, allowing the US to continue supporting the war there.
According to the Journal, multiple State Department bureaus advised Pompeo to tell Congress he couldn't certify that the Saudis were working hard enough to minimize civilian casualties, but he declined to do so "after being warned that a cutoff could jeopardize $2 billion in weapons sales." Yep, sounds like that good ol' military-industrial complex at work to me!
Democratic Rep. Ro Khanna, who has been a vocal critic of America's continued support for Saudi Arabia and the United Arab Emirates' three-year-old campaign in Yemen, called the decision earlier this month to certify the coalition's efforts on civilian casualties a "farce."
Foreign Policy reported this month that August was "the deadliest month this year for civilian casualties in the war," and more than 16,700 civilians have already died. The United Nations estimates that "the number of Yemenis who face starvation without aid has risen to 8.4 million," according to ABC News. Save the Children, a British charity, warned yesterday that 5 million Yemeni children face starvation, with its CEO saying "the babies were too weak to cry, their bodies exhausted by hunger" in one Yemeni hospital she visited.
G/O Media may get a commission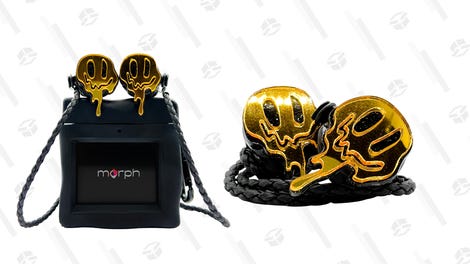 morph audio
Morph Earphones
Perhaps most insane of all, advice from multiple bureaus in the State Department didn't advise Pompeo to actually withdraw U.S. support for the war, but instead told him to find a bullshit excuse to continue supporting it, according to the Journal:
They urged Mr. Pompeo to instead tell Congress that he couldn't certify that the Gulf nations were doing enough to minimize civilian casualties, but that the U.S. would continue to provide military support to the coalition because it is in America's national security interest.
They weren't even trying to end the war! (Advice from the US Agency for International Development, USAID, argued the U.S. should withdraw support entirely, saying, "USAID does not believe that continued refueling support will improve either country's approach to civilian casualties or human protections.")
According to the paper, only one agency, the Bureau of Legislative Affairs, urged Pompeo to fully support the Saudi-led coalition, arguing that "lack of certification will negatively impact pending arms transfers," and that "failure to certify may also negatively impact future foreign military sales and direct commercial sales to the region."
Earlier this year, President Trump said: "Saudi Arabia is a very wealthy nation, and they're going to give the United States some of that wealth, hopefully, in the form of jobs, in the form of the purchase of the finest military equipment anywhere in the world."
In August, the coalition bombed a school bus, killing 40 children. The bomb was manufactured and sold to the Saudis by American defense contractor Lockheed Martin. The company's CEO, Marilyn Hewson, is the top-paid defense CEO in America, earning $20.6 million last year, according to CNBC. Almost 90 percent of Lockheed's revenue comes from the federal government—meaning that you and I are helping to fund the killing. And since the Senate passed a massive $607 billion defense spending bill yesterday—a reported increase of $17 billion—there's no end in sight.