If you feel like it is odd that Pope John Paul II was the head of the Catholic Church only 9 years ago, and that he is already getting canonized as a saint, you are exactly right. His Holiness' canonization this Sunday is the fastest such track in the Church's history— beating Mother Teresa's ascent by a matter of fifteen days.
His sainthood will be declared in the ceremony alongside Pope John XXIII, who passed away in 1963. The double ceremony will be the first double pope canonization since the Middle Ages, according to Bloomberg.
During his funeral in 2005, mourners held signs and chanted "Sainthood Now" for John Paul II, ushering what would become a fast-forward campaign. When he took the papacy, Pope Benedict XVI acknowledged the sentiment by waiving the typical five year waiting period before a saintly investigation can begin, and allowed for the process to start only a matter of weeks later.
The church beatified John Paul II in 2011 after certifying that two miracles had been performed by him: A French nun suffering from Parkinson's disease was inexplicably healed after praying to him, and a Costa Rican woman's brain aneurysm purportedly disappeared after doing the same.
Only one miracle is needed in order to be beatified, or to be allowed for veneration in the fallen's homeland. Two are needed for canonization, which means he is recognized by the entire Catholic Church.
G/O Media may get a commission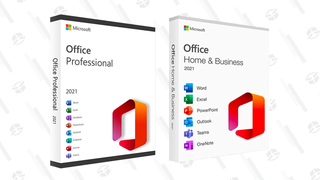 89% off
Microsoft Office Professional 2021 Lifetime License
But again, usual protocol has been abandoned for the double canonization on Sunday. Current Pope Francis has waived the need for a second miracle, allowing for Pope John XXIII to be canonized even after one miracle has been proven.
He was beatified in 2000 for the healing of an Italian nun suffering from a gastric hemorrhage during his lifetime.
While few would argue that both were great holy men, the fact that John Paul II in particular is getting such a fast track is troubling to some. He did preside over the Church during a widespread pedophilia scandal, the breadth of which fully came to light after his death, after all.
"[T]he church hierarchy can avoid rubbing more salt into [the wounds of these victims] by slowing down their hasty drive to confer sainthood on the pontiff under whose reign most of the countless, widely-documented clergy sex crimes and cover-ups took place," Barbara Blaine, president of the Survivors Network of Those Abused by Priests, told the Daily Beast.
Others wonder if the fast-tracked approach is "taking some of the shine" off of sainthood, as Patricia Miller of Religion Dispatches argues.
"The benefit of the church's traditional slow march to sainthood was that it removed the canonization of any individual from the politics of any particular papacy," she wrote in a post. "You really had to stand the test of time to be made a saint in the Catholic Church."
But as that logic has its merit, the fact that people who knew the the Popes in their lifetimes will witness the transformation into sainthood has an unquestionably exciting appeal.
An estimated 2 billion people are expected to follow this Sunday's canonization on TV, radio and online. In that respect, regardless of if is a PR stunt, or cheapening the allure of sainthood, few would argue that it is bad for business.
Daniel Rivero is a producer/reporter for Fusion who focuses on police and justice issues. He also skateboards, does a bunch of arts related things on his off time, and likes Cuban coffee.