There are lots of regional beefs in America today. Texas vs. Oklahoma. Michigan vs. Ohio. Crown Heights vs. Park Slope.
But perhaps none are so fierce right now as California vs. Portland, where residents of the latter believe they are facing an invasion from the former.
Exhibit A: Portlanders have begun slapping stickers indicating "no Californians" on homes-for-sale signs, The Oregonian's Luke Hammill reports.
Here's a photo taken by Portland realtor Quinn Irvine of a home in the Arbor Lodge neighborhood on the city's north side, where, at $520,000, according to real estate site RedFin, prices are double the city's median home value of $260,000.
G/O Media may get a commission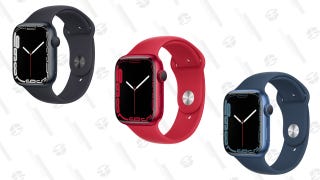 Up To $45 Off
Apple Watch Series 7
Hammill says at least three other city realtors have seen the stickers, and that they are a response to rapidly rising home prices in the city.
"There's the lowest inventory we've had in over 10 years, and people are frustrated," Irvine told Hammill. "They're basically blaming Californians for raising their real estate prices."
You can get a sense of the extent of inbound moves from California to Multnomah County (Portland's home county) from this Census map — more than three-quarters of California counties saw residents live for the Emerald City between 2009 and 2013; Los Angeles County was No. 1, with an estimated 1,648.
No one has yet stepped up to claim ownership of the stickers yet. (If you are this person or group, please get in touch at robert.wile@fusion.net!)
Rob covers business, economics and the environment for Fusion. He previously worked at Business Insider. He grew up in Chicago.