Fear of a possible Donald Trump presidency is pushing some Latino immigrants to hurriedly apply for U.S. citizenship in time to vote for anybody other than The Donald in the 2016 election.
According to The New York Times, "While naturalizations generally rise during presidential election years, Mr. Trump provided an extra boost this year" as families across Denver, Colorado rush their citizenship applications so they can vote against the Republican frontrunner.
This trend seems to be happening in other places as well. In the city of Painesville, Ohio there is an increased demand for both naturalization and voter registry workshops as immigrants, mainly of Mexican descent, are coming out of the shadows hoping to prevent a Trump win.
"People who previously were not aware of the candidates seem to know who Trump is and what he stands for," Veronica Dahlberg, director of Ohio-based Latino grassroots organization HOLA, told Fusion. She says Trump's anti-immigration statements are pushing many to "take the next step and seek citizenship."
Dahlberg claims even people who've been non-citizen residents for more 20 years are suddenly showing interest in getting their citizenship to vote. Other naturalized citizens are registering to vote for the first time. She says her organization helped register more than 130 voters in January alone— a big deal for a small town like Painesville.
G/O Media may get a commission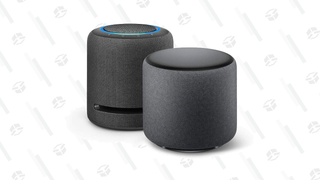 25% off - Prime Exclusive
Echo Studio + Echo Sub Bundle
Young Latinos are also turning out in big numbers.
Doraelia Acosta, a 30-year-old Latina workshop volunteer at HOLA, just became a U.S. citizen last week in part to remain in the country legally, but also "because of the election," she says.
Acosta, who was born in Mexico and came to the U.S. with her mother, spent two years facing deportation proceedings until an immigration judge allowed her to remain in the U.S. She says she still doesn't know who she wants to vote for, and thinks President Barack Obama didn't keep his promise on immigration reform.
"I think he could have passed it in his first four years, when the House and the Senate were controlled by the Democrats," she said.
But whoever she votes for, it will be a ballot cast against Trump, she says.
"He's scary, he's against everybody and it would be scary to have him as president," she said.
Acosta is now helping rally other Latinos to register. "We are working very hard," she says. "Personally I am working very hard to get everyone I know to vote against him."
Overall U.S. naturalizations were up by more than 11% last year, from 654,949 in 2014 to 729,995 in 2015, according to government figures. Some analysts expect more than 13 million Latinos to vote in this election.
And at least in cities such as Denver and Painesville, they appear to taking the famous Latin American saying to heart: El pueblo, unido, jamás será vencido. (The people, united, will never be defeated.)