Two separate package bombs detonated in the Austin area on Monday, killing a teenage boy and wounding an elderly woman. According to the Associated Press, those attacks are likely related to a package bombing that fatally wounded a 39-year-old man just 12 miles away earlier this month.
Although the March 2 explosion was at the time not considered to be an act of terrorism—and possibly the result of a bomb built by the victim himself—all three incidents were briefly being investigated as possible hate crimes.
Three of the Texas residents wounded by package bombs have been black; the 75-year-old woman critically injured this afternoon is Latinx, according to Houston's KTRK.
After the sole victim of the March 2 bombing, 39-year-old Anthony House, died in the hospital, Austin police ruled his death "suspicious" but did not investigate it as a homicide, telling Fox 7 that "anytime we have a bomb go off like that and somebody dies, the first thing people think is terrorism. While we cannot completely rule it out at this point, we do not believe that terrorism is a motive in this death."
The same story from the Fox affiliate, along with other reports at the time, mentioned that House had faced previous unspecified charges with the county. Local authorities assured the public they did not believe someone was going around leaving packages meant to explode but advised residents to call police if "your gut is telling you something is wrong."
G/O Media may get a commission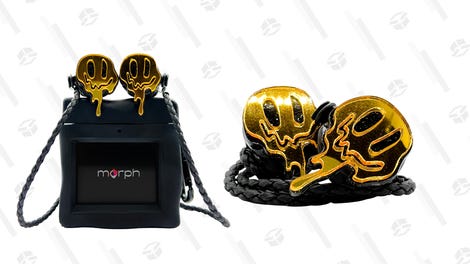 morph audio
Morph Earphones
But while the bulk of that early investigation seemed to hinge on identifying the origin of the explosion and confirming the package had not been delivered by postal carriers, in the hours after today's bombings Austin police quickly drew a possible connection to the other blasts. As they told ABC, all three explosions were caused by packages left overnight in front of the victims' homes which were not sent through federal or private mail services.
Likely in response to widespread panic over the crimes—and speculation about the motive stemming from the fact that both of today's bombs detonated in predominantly black neighborhoods—authorities also backpedaled on their earlier statements about a potential hate crime connection. Austin Police Chief Brian Manley told the AP there was no evidence supporting the notion that the bombings were hate crimes but said police haven't settled on a motive and therefore can't rule anything out. Hate crimes in Texas have been steadily increasing since the election of Donald Trump.
The investigation is ongoing as hundreds of thousands of media talking heads and tech "influencers" descend on Austin's downtown for the South By Southwest festival.
Texas Governor Greg Abbott has offered up a $15,000 reward for information connected to the explosions. As a reward for information related to the death of Border Patrol Agent Rogelio Martinez, which was later ruled an accidental death, the governor's office offered $20,000.