One day there will be no Chipotles. Maybe you won't notice. Maybe you'll be devastated. Maybe you'll cheer the apparent fall of a massive chain restaurant, and wait eagerly for the coming revolution. Regardless, you must prepare yourself for that day, for it will come, on February the 8th, and include the closure of every single Chipotle store—but just for a few hours.
The closures will happen to allow for a company-wide food safety meeting, one that is sorely needed in light of the many food safety calamities the fast-casual Mexican grill has faced in the past several months.
The meeting, Chipotle rep Chris Arnold told the Oregonian, will be pretty toothless. "We want to thank our teams for all of their hard work," said Arnold, adding, "to discuss some of the changes we are making to enhance food safety, to talk about the restaurants role in all of that and to answer questions from employees."
Chipotle has much to answer for, including six reported health scares in 2015 involving norovirus, E.coli, and salmonella.
The outbreaks happened over the course of months and throughout the U.S., affecting consumers in (at least) Oregon, Washington, Massachusetts, Kansas, North Dakota, Oklahoma, California, and Minnesota.
G/O Media may get a commission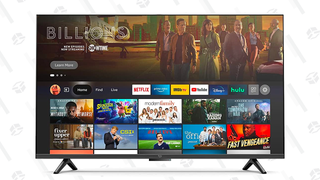 22% off
Amazon Fire TV - 50" Omni Series 4K - Early Access Deal
The various food poisonings have, not surprisingly, been bad for Chipotle. In December, food sales plummeted by 30%, its stock price by close to 40%. It's facing a criminal investigation over the norovirus outbreak, and a number of lawsuits from customers who got sick.
Still, the company is hoping to win people back over through free food and with the help of a new marketing campaign that will launch in February. Fox News explains:

At an investment conference in Orlando, Florida on Wednesday, Chipotle executives said the company is taking measures to reduce the risk of another food scare to "near zero." They said they would start "inviting customers back" to restaurants in February with stepped-up marketing and direct mail offers. They said food safety will not be explicitly referenced in the marketing, but that there might be a "clever headline."
It will have to be a very, very clever headline.
Danielle Wiener-Bronner is a news reporter.