Perhaps inconveniently for our next president, the trial in the class action RICO lawsuit against Trump University—accusing it of being a "fraudulent scheme" that Trump himself had little or nothing to do with—this month. Jury selection begins November 28th. This is the same case in which Trump made derogatory comments about federal judge Gonzalo Curiel, saying he could not judge impartially because he is "Mexican." (Curiel was born in Indiana.)
Some specific complaints from the lawsuit, per LawNewz:

Back in 2005, Trump sent out bulk mailings of a "Special Invitation from Donald J. Trump" that would grant you access to "the free introductory Live Event," with the end result being that "you'll have what you need to succeed!"

"Almost immediately," the New York State Education Department wrote Trump, issuing a warning not to illegally call his operation a "university" without a license, only for Trump to move the official location to Delaware while still operating in New York. In 2010, the NYSED wrote Trump a letter requesting that "[a]ll current students should be refunded" and threatened "disciplinary action."

Trump University staffers would, during breaks in between parts of seminars, tell students "to raise their credit card limits four times" to be able to buy real estate on the cards and asked them to prepare financial disclosures. The alleged reasoning for this was to determine how much money students had to spend on additional seminars and get them to charge the seminars to the cards that now had increased limits.
According to an extensive USA Today investigation, Trump has been involved in some 3,500 lawsuits, which is completely unprecedented for a presidential candidate—let alone president.
There's extremely little precedent for suing the president. According to a Bloomberg report, the most apt case is actually that of Paula Jones's lawsuit against Bill Clinton, filed when he was president but for alleged sexual harassment while he was governor of Arkansas. "Clinton's attorneys argued that in all but the most exceptional cases any litigation against the President should be deferred until he left office. But the Supreme Court disagreed," per Bloomberg.
G/O Media may get a commission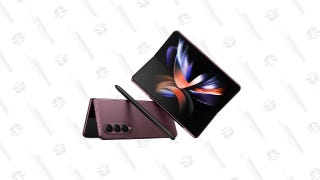 Save Up to $300
Galaxy Z Fold4
Sam Stecklow is the Weekend Editor for Fusion.