It's very clear that Donald Trump has not put much thought into his plan to send the National Guard to the Mexican border until Congress agrees to build his big, beautiful Wall, but on Wednesday, he at least gave us some idea of how many troops he's sending.

CNN reports that Trump told reporters on Air Force One that he's going to send "anywhere from 2,000 to 4,000" members of the National Guard to the border. Trump also reportedly said that he doesn't know how much the deployment will cost but that he has a "pretty good idea," (sure he does), and that the troops will be there until the wall is built. Those last two questions, obviously, have quite a bit to do with each other.
The Department of Defense provided additional details in a statement today. "The National Guard's efforts will include aviation, engineer, surveillance, communications, vehicle maintenance and logistics support," Pentagon spokesperson Dana White said. "These National Guard members will act in support of Border Patrol agents who are performing law enforcement duties."
Trump is not the first president to send the National Guard to the border. In May 2006, President George W. Bush announced that he would deploy 6,000 National Guard troops to the border in a televised speech from the Oval Office:
The Guard will assist the Border Patrol by operating surveillance systems, analyzing intelligence, installing fences and vehicle barriers, building patrol roads, and providing training. Guard units will not be involved in direct law enforcement activities — that duty will be done by the Border Patrol. This initial commitment of Guard members would last for a period of one year. After that, the number of Guard forces will be reduced as new Border Patrol agents and new technologies come online. It is important for Americans to know that we have enough Guard forces to win the war on terror, to respond to natural disasters, and to help secure our border.

G/O Media may get a commission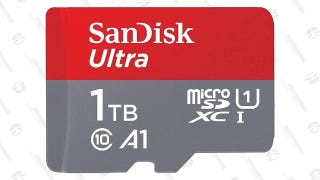 Save $70
SanDisk Ultra 1TB MicroSDXC Card
The deployment ultimately lasted a little over two years, CNN notes, and cost about $1.2 billion. In May 2010, President Barack Obama announced that he would send 1,200 troops to the border, a mission that eventually lasted for a year and a half and cost at least $110 million.
The timing of all of these deployments—the spring before a midterm election—is interesting. The same year Bush sent troops to the border, his party got wiped out in November, as Democrats flipped both the House and Senate. Here's how CNN described Bush's move in 2006:
Trying to navigate the election-year minefield on the issue, Bush called for the short-term deployment of up to 6,000 National Guard troops in a supporting role along the U.S.-Mexico border.

And he endorsed a controversial proposal to give illegal immigrants already in the United States a path to work toward citizenship.

Likewise, Obama's decision was followed months later by a Republican wave which put John Boehner in the speaker's chair. Here's how the New York Times described Obama's announcement at the time:
The decision was disclosed by a Democratic lawmaker and confirmed by administration officials after Mr. Obama met on Tuesday with Republican senators, several of whom have demanded that troops be placed at the border. The lawmakers learned of the plan after the meeting.

But the move also reflected political pressure in the president's own party with midterm election campaigns under way and with what is expected to be a tumultuous debate on overhauling immigration law coming up on Capitol Hill.
November currently looks like it's going to be a disaster for the Republicans. Trump's party is coming off two major special election losses in Pennsylvania and Alabama, not to mention last year's wipeout in Virginia and decisive Democratic wins in deep red districts all over the country. The Democrats have a 7.5 point lead in the generic Congressional ballot according to Real Clear Politics' average. Over two dozen Republicans have already announced their retirement from the House, and on Thursday, a poll in Tennessee showed that Democrat Phil Bredesen has a double-digit lead over Republican Marsha Blackburn in the race to replace Bob Corker in the U.S. Senate, in a state Trump won by 26 points.
What's different about Trump and his predecessors is that both moved to the (bad) center on the issue, while Trump is just jerking farther to the right. (And for good reason: the presidencies of neither Bush nor Obama were as closely tied to immigration as Trump's has been.)
Trump is a racist dipshit who doesn't understand how most things work, sure, but one thing he has picked up on since his time as a candidate is what makes his people happy. And talking about the wall incessantly and giving the perception that he's doing something—even if it just creates a problem or exacerbates an already existing one—is what makes his base happy.
Trump is desperate for a win in a sea of bad news, and as past presidents tried to do, he's trying to project strength at the border to get it. Hopefully, it'll work out for him about as well as it did for Bush and Obama.